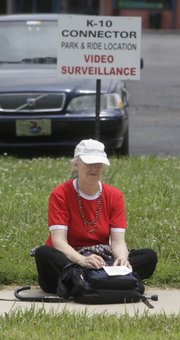 Taking the bus
The K-10 Connector provides bus rides between Lawrence and Johnson County Community College.
It runs weekdays and weeknights to three stops in Lawrence: KU's Park & Ride lot at Clinton Parkway and Crestline Drive; the southwestern corner of 19th Street and Naismith Drive; and the intersection of 19th Street and Haskell Avenue. Its Johnson County stops include the Carlsen Center at JCCC and the northwestern side of the roundabout at the Edwards campus in Overland Park.
The cost is $3 for a one-way pass or $22.50 for a 10-ride pass.
For more information or the bus schedule, click on the Johnson County Transit's Web site at www.thejo.com/routes/k10.shtml.
Sylvia Stoner-Hawkins has spent numerous hours traveling by bus and car along Kansas Highway 10 to earn a doctorate of musical arts degree at Kansas University.
During the past couple of semesters, Stoner-Hawkins said she made the approximately 35-mile trip almost daily from her home in Shawnee. This summer, the trips have become less frequent as she wraps up coursework and prepares for a couple of exams in the fall.
The professional singer and actress said she passes the time during the commute by memorizing lyrics and tuning up her vocal chords.
"It is good for that," she said.
Sometimes, she commutes with her husband, Wayne Hawkins, who is a part-time lecturer in jazz studies at KU. If he drives, she takes advantage by doing homework.
When her schedule allows, Stoner-Hawkins takes the K-10 Connector bus and recommends the bus over driving for a couple of reasons.
First, it might be safer.
"I've seen so many accidents," she said. "So many times I have just seen people who are running late. You can tell they are running late from Kansas City. It is unreal how fast people are willing to go. It's just better to slow down and plan ahead."
Second, it saves money. She estimated that she spent between $25 and $40 per week on gasoline. Meanwhile, she could buy a bus pass for 10 rides for $15. The price recently went up to $22.50.
While the commute may be a little longer by bus — about an hour compared to about 45 minutes by car — she said it allowed her to catch up on homework and sleep.
"It was a great break," she said.
Increasingly popular option
There were times, though, that the K-10 Connector was so popular that Stoner-Hawkins had to stand for the entire ride.
"I stood coming to and from Kansas City. But at least all of those people were on the bus rather than on the road," she said.
The K-10 Connector, which is operated by Johnson County Transit, provided 67,478 rides during its first year of operation in 2007. Ridership rose 71 percent in 2008 to 115,612.
In January, the company added more service, said Cris Lowe, community relations coordinator. It basically operates from 6 a.m. to 6 p.m. Monday through Friday.
"It's a good option because it saves the wear and tear on your car, gas money, and it helps the environment. So, it is a good option for students," Lowe said.
Sharing a ride
Some students don't have the bus as an option. Count Tessa Burchett among them.
She is working on a master's degree in social welfare at KU, which is about 70 miles from where she lives in Wamego. She made the trip once a week last school year and plans to make the same weekly trip this year.
She said the drive isn't too bad. It's the long days that get tiresome. She leaves about 6:30 a.m. and returns home about 8 p.m.
"It's a pretty long day," Burchett said.
She said having someone to commute with has made a big difference. Not only does it cut down on costs, but it motivates her to attend classes.
"I don't know what I would do without her. I don't think I would be able to make it," Burchett said.
KU helped match her with Traci Booth, of Manhattan, who is earning the same degree. They travel to KU because K-State doesn't offer the degree.
"We usually talk about class and life and listen to music," Burchett said of how they pass the time during their drive on Interstate 70, through the Flint Hills and Topeka.
Booth drives because she has a bigger vehicle, and she bought the KU parking pass. Burchett gives Booth $15 per trip for gas and wear and tear on the vehicle. She also pays for the Kansas Turnpike toll.
Her advice for those who share a ride is to work out all of the small details in advance, so there are not problems down the road.
Last year, they had the exact same classes. This fall, they will have different classes but on the same day.
"We are just going to wait around and be patient, I guess," Burchett said. "But it's totally worth it."
Driving costs
Jim Hanni, executive vice president for AAA Kansas, offers these tips for saving money on gas if you have to commute by car:
• Keep the car maintained. Replacing a clogged air filter can improve gas mileage by up to 10 percent. You can improve your gas mileage by 3.3 percent by keeping tires properly inflated.
• While each vehicle reaches its optimal fuel economy at different speeds, gas mileage usually decreases rapidly at speeds above 60 mph. As a rule of thumb, you can assume that each 5 mph you drive over 60 mph is like paying an additional 20 cents per gallon for gas.
• Aggressive driving wastes gas. It can lower gas mileage by 33 percent at highway speeds and by 5 percent around town.
• Avoid keeping unnecessary items in your vehicle. An extra 100 pounds in your vehicle could reduce your miles per gallon by up to 2 percent.
Copyright 2018 The Lawrence Journal-World. All rights reserved. This material may not be published, broadcast, rewritten or redistributed. We strive to uphold our values for every story published.