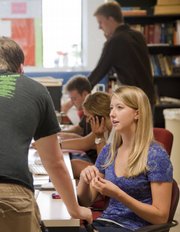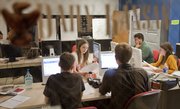 With the advent of the Internet, the media industry has witnessed a large shift in priorities, as ever-increasing numbers of people turn to new, electronic sources to receive their news.
In the face of this trend, the Kansas University journalism school is altering its curriculum to better prepare today's students in the use and creation of new media.
"We're adjusting our philosophical approach to be more entrepreneurial, teaching students to be self-employed or work as part of a small team," said Ann Brill, dean of the journalism school. "That's really how things have changed. Whereas it used to be a journalist would get a job with a newspaper and work there for years, now you have to be more entrepreneurial."
Part of this change in philosophy is encouraging students to learn and understand new media forms, particularly the Web, Brill said.
"What KU began doing 10 years ago was a process of convergence, so we've been doing this a long time," she said. "We're teaching students to use cameras and think of the Web. What we're doing is teaching students to think of the audience and the different forms of storytelling. New courses are being taught all the time, things like business journalism, science or military journalism."
To make sure students are prepared for the future, Brill says it is necessary to focus on two different schools of thought.
"The first is we need to keep teaching traditional skills — editing, writing, interviewing," she said. "The second thing is, we need to teach (students) enough skills to create their own brand. The first set of skills is marketable in a lot of industries. The second set is what will set you apart."
Brill's belief is that the journalist of the future will need to have skills across several genres, including writing, photography and the Internet, and will be called upon to work in a freelance capacity. For this reason, it is crucial for students to understand what it takes to develop their own personal brand, as well as understand new media trends, she said.
"Journalism students will still be hired, but they'll have multiple employers," Brill said. "It's all about marketing yourself as the best. Whether it's advertising or Web design, it's about being aggressive and being the best. Our job is to make sure people are the best. It calls upon us to change and be current. That's why we (at KU) have really been leading the curriculum changes (for journalism schools) around the country."
Many students have witnessed this shift in priorities and say the journalism school is doing a good job adapting to the changing face of media.
"I think the journalism school is preparing us really well for the future," said junior Elliot Metz, of Wichita. "The j-school focuses on different media, so you're ready for any aspects of journalism. In today's world, you need to know what you're doing on the Internet, and the j-school realizes that, so they're helping us develop those skills."
Olathe senior Sarah Young echoes this sentiment.
"I really enjoyed Journalism 301, a class where we did a lot of video and broadcasting, things like that," she said. "(The j-school) is trying to incorporate a lot of the stuff online, and that helps make it exciting and prepare us for the future."
Not everyone, however, feels that the journalism school is enough to prepare students for the future. Jesse Trimble of Columbus, who served as editor of the University Daily Kansan this summer, feels that her work with the Kansan helped her learn and understand new media in ways that the j-school alone could not.
"I think the Kansan did a better job (than just classes) because right now the j-school is trying to implement advanced media classes to get students better prepared for multimedia," she said. "They're trying to get classes teaching both (traditional) media and multimedia skills. I think it's a great idea, but until you get the practical experience, it doesn't mean very much."
Copyright 2018 The Lawrence Journal-World. All rights reserved. This material may not be published, broadcast, rewritten or redistributed. We strive to uphold our values for every story published.