Related document
-->
Photo Gallery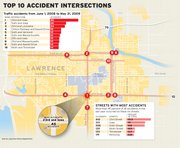 Lawrence auto accident data
A look at the frequency, locations and other factors involved in wrecks in Lawrence.
It happens like clockwork every August, and Lawrence locals are familiar with the signs.
First, it's the piles of furniture that begin lining the streets, followed by longer than expected waits to get into downtown restaurants. But the most obvious, telltale sign that students have returned to Lawrence is the traffic congestion clogging streets and intersections.
It's move-in time on campus, and as the city roads see an influx of thousands of returning students it's no surprise traffic is getting cramped along 23rd Street. And as students navigate the streets of their new home, the number of traffic accidents in the city increases.
"When KU's out it's a piece of cake to get around this town. It truly is," Lawrence Traffic Safety Commission member Richard Heckler said. "When the kids come back to town everybody has to be more responsible."
According to police reports, nearly a quarter of all traffic accidents in Lawrence during the past year were caused by people between the ages of 19 and 23.
"I don't know that there's anything here that's any more unusual than anyplace else," said city traffic engineer David Woosley. "It's just that people aren't familiar with the town. They're trying to find how to get from here to there. Their attention isn't 100 percent on their driving."
In Lawrence, inattentive driving was cited as the main contributing factor of about 32 percent of all accidents for which police determined a cause.
Kansas University associate professor of psychology Dr. Paul Atchley conducts research on driving and attention span. He said that while both young and old drivers had their fair share of problems behind the wheel, it was often young people who had the hardest time focusing on the road.
"There are differences in attention as you age," Atchley said. "Younger drivers don't know where to attend because they're inexperienced. They don't always pay attention to the most important things. At an intersection they may not look left and right because they haven't learned how important that is yet."
Atchley said it was easy to overlook the complexity of driving a car, which requires us to focus our attention on several things at once.
He said in order to drive we have to frequently shift our attention from various signals outside the vehicle to ones inside it while at the same time manipulating our bodies into physically controlling the car. Attempting to do all that while sending a text message, as 75 percent of college students he surveyed do, could combine to be just as dangerous, if not more so, than driving while intoxicated, he said.
"Your brain can do only one thing at once," Atchley said. "We can't truly multitask."
With most students now back in town, changes in the traffic flow have already begun. Heckler said it was important for everyone in the city to be aware of other drivers and to be as safe as possible.
"People just need to slow down, that's the key," he said. "And it isn't just students. We all have to. There are plenty of fast drivers in this town without students."
Copyright 2018 The Lawrence Journal-World. All rights reserved. This material may not be published, broadcast, rewritten or redistributed. We strive to uphold our values for every story published.