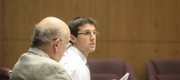 More coverage of the trial of a former Kansas University student accused of beating and kidnapping his ex-girlfriend.
Local attorneys were surprised by Wednesday's accusations of juror misconduct in the Matthew Jaeger trial and said misconduct can lead to prejudice against a defendant.
"It is problematic, and especially when you've had a trial that's gone on as long as this one has, and you get to the very end and you find out that a juror has done this — misbehaved — it causes a lot of potential problems," said Suzanne Valdez, clinical associate professor at Kansas University's School of Law.
It was never specified in open court why the juror was accused of misconduct, but defense attorneys said he allegedly re-enacted a material fact in the case. The accusation came Wednesday, at the beginning of the jury's third day of deliberations. Testimony began Aug. 5.
Despite defense attorneys' request for a mistrial, Douglas County Chief District Judge Robert Fairchild dismissed the juror and replaced him with an alternate, who had listened to testimony but had not participated in deliberations.
"Now what you have is a situation where they all have to go back into deliberations and review everything all over again with this new alternate," Valdez said.
Judges frequently remind jurors not to give in to external influences, such as media reports, during a trial and not to drive by the scene of an alleged crime. Recently, Douglas County judges reminded jurors they're not to discuss the case on social media Web sites such as Twitter.
"This is going to be increasingly difficult to control," Valdez said. "It's just too easy to go to your computer at home at night, get on the Internet, and get some information. You think it's harmless, but if a judge has told you not to do it and you do it, then it could cause possible problems for defendants in these types of cases."
Because Fairchild replaced the juror in the Jaeger trial, Valdez said, it's almost certain the case would be appealed if Jaeger is convicted.
Prosecutors did not request a mistrial and requested the juror be replaced with an alternate.
Copyright 2018 The Lawrence Journal-World. All rights reserved. This material may not be published, broadcast, rewritten or redistributed. We strive to uphold our values for every story published.