Photo Gallery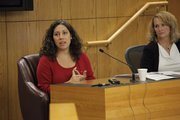 Matthew Jaeger trial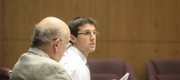 More coverage of the trial of a former Kansas University student accused of beating and kidnapping his ex-girlfriend.
Jaeger Trial Updates, Via Twitter
A Douglas County judge Wednesday morning dismissed a juror for misconduct and appointed an alternate to serve in the Matthew Jaeger trial, but he stopped short of declaring a mistrial in the case.
Jurors will return to work at 9 a.m. Thursday, the third day of deliberations in the kidnapping and aggravated battery trial of the former Kansas University student.
Defense attorneys asked Chief Douglas County District Judge Robert Fairchild to declare a mistrial during a hearing at 9:30 a.m. Wednesday. Attorneys never said specifically why one male juror was accused of misconduct in the case, but the arguments included some clues.
"It's not like a simple drive-by or reading in a newspaper; the allegations here involved a re-enactment of a material fact in this case," defense attorney Pedro Irigonegaray said. "And it is very disturbing to think the interests of justice have been put at such jeopardy as a result of this man's action."
Irigonegaray said the actions had "been ongoing, since early on in the deliberations of this case. It is difficult for me to not conclude that there has been an impact."
Jurors are given instructions not to do independent investigations, conduct tests, review media reports or visit the crime scene during a trial.
But Assistant Kansas Attorney General Jason Hart, a prosecutor in the case, said the remainder of the jury acted in a way that indicated that they knew what the dismissed juror did was wrong, "particularly the way the foreperson says the jury has responded to the limited statement provided by that juror."
Hart said the conduct would not have prejudiced the jury against Jaeger and that one of the alternate jurors should replace the juror instead of a mistrial being declared.
Before Fairchild decided not to grant a mistrial, he dismissed spectators from the courtroom at 10:10 a.m. to question the 11 jurors not accused of misconduct.
About 30 minutes later, jurors resumed their deliberations after the male juror accused of the misconduct was dismissed from the case. The first alternate, a woman, was added to the jury.
She heard all of the evidence but had not been involved in deliberations until Wednesday morning. The jury now consists of seven men and five women.
Prosecutors accuse Jaeger, 24, of severely beating and dragging his ex-girlfriend, who is now 23, from her Lawrence apartment the night of Oct. 9, 2007. Testimony in the trial began July 29, and jurors got the case Monday afternoon. Defense attorneys have said Jaeger was worried for the woman's safety that night and found her injured and tried to help her after she fell onto a bed railing in her bedroom.
Jurors are deciding whether to convict Jaeger of aggravated kidnapping, aggravated battery, aggravated burglary and making a criminal threat. Jurors also have the option of convicting Jaeger of a simple kidnapping charge instead of aggravated kidnapping.
After the alternate juror took her place, jurors spent part of Wednesday afternoon watching a recording of Jaeger's ex-girlfriend's interview with police while she was in the hospital. They also spent nearly two hours in the courtroom listening to court reporters read back to them part of testimony from several witnesses in the trial.
Jurors have asked many questions since they began deliberating, including asking Fairchild on Wednesday about how they determine a "stopping point" in their deliberations.
Fairchild said jurors should "continue to deliberate as long as there's a possibility that a unanimous verdict can be achieved."
The judge told jurors they also have the option of reaching a verdict on only some of the charges instead of all four of them.
Copyright 2018 The Lawrence Journal-World. All rights reserved. This material may not be published, broadcast, rewritten or redistributed. We strive to uphold our values for every story published.