On the street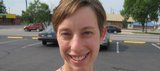 No, but my 4-year-old son is. He wants to be a monster truck driver.
It isn't eloquent, polite or even clean. The nearly 100 cars taking center stage at the Douglas County Fair tonight won't be yielding to one another, using turn signals or looking both ways before proceeding.
This is after all, the demolition derby.
It's an event designed for gearheads who prefer to build a car and then tear it right back down.
"Basically nothing was left inside the car," said Jay Armbrister, who is a fifth-year derby driver. "If people tell you that they don't have friends out there on the track, they're lying to you. There are people that you work with and people that you run against. But when it gets down to the end, it's every man for themselves."
The demolition derby, set for 7 p.m. today, has become the headline event at the Douglas County Fair, particularly for the nearly 100 drivers.
"This is the Super Bowl of derbies around," said Richard Neis, founder of the "Eat Horse" demolition derby team. "It draws the biggest crowd and most of the time it draws the most cars."
Long before the starting gun fires, drivers spend weeks preparing their cars.
Jimmy Flowers, a member of team "Eat Horse," is driving a barely recognizable 1976 Pontiac Catalina.
"I am just strapping it back together," said Flowers, who has driven on and off for nearly 10 years. "Everything was bent, torn or pulled apart … so we've straightened it back out with use of the tractors and skid loaders and put it back together."
The rules are quite simple. Every car must make an aggressive hit every 60 seconds. If a driver's car is disabled, the driver must pull off a stick that's affixed to the driver's window, and the night is over. While every driver goes into the event to win, each understands the check is cut to just one person.
"There is only one driver that doesn't have to break their stick," Armbrister said. "He's the one going home with all of the money." Armbrister, who has built about 10 cars in his short career, will be driving a 1963 Ford Galaxy in the compact class.
Copyright 2018 The Lawrence Journal-World. All rights reserved. This material may not be published, broadcast, rewritten or redistributed. We strive to uphold our values for every story published.