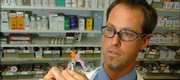 An outbreak of H1N1 Swine Flu was reported in Mexico in April 2009. By the end of May, it had spread across the U.S., with all 50 states reporting cases.
Washington — The U.S. economy, which was showing tentative early signs of a recovery, faces a potentially grave new threat: swine flu. A widespread outbreak could batter the tourism, food and transportation industries in particular, deepening the recession in the U.S. and possibly worldwide.
With the U.S. and the global economy already fragile, another severe blow could reverse any progress made in easing the recession.
The European Union advised against nonessential travel to the United States and Mexico. And worried Wall Street investors pounded stocks of airline companies, hotels, cruise operators and some food firms on fears that the flu would crimp consumer demand.
But at least three major airlines said their operations are proceeding normally and have not canceled any flights to Mexico.
Brian Bethune, economist at IHS Global Insight, said, "You can argue that the swine flu amplifies the downside risks to the economy."
The U.S. economy could end up shrinking a bit more than now expected. But most experts don't think a swine-flu outbreak by itself would eliminate many U.S. jobs or severely worsen the economy.
Simon Johnson, former chief economist to the International Monetary Fund and a professor at the Massachusetts Institute of Technology's Sloan School of Management, envisions only a "small hit" to economic activity in the United States — just a few tenths of 1 percentage point.
But if the problem persists for months, spreads broadly and leads to widespread flu cases, or even deaths, in the United States, the damage could be more severe. It could delay an economic recovery well into 2010, said Mark Zandi, chief economist at Moody's Economy.com.
"Consumer confidence is already frayed, and something like that would push it over the edge," Zandi said.
Sherry Cooper, chief economist at BMO Capital Markets & BMO Nesbitt Burns, said: "The last thing we need is additional reason to cut spending, eliminate travel and introduce trade restrictions."
In a worst-case scenario, Bethune says the U.S. economy would contract by an extra 0.3 percent this year, on top of his prediction of a 3.5 percent drop. That amounts to a roughly $50 billion loss of economic activity, he said. The IMF already has predicted the U.S. economy will shrink 2.8 percent this year.
Both Bethune's and the IMF's estimates would mark the worst showing since an 11 percent plunge in 1946.
One big fear is that spooked consumers will cut back spending on travel, restaurant meals and trips to shopping malls.
Even so, the impact on the U.S. unemployment rate, which is expected to hit 10 percent by year's end, is likely to be small. Bethune said a serious swine flu outbreak might end up raising the jobless rate a few tenths of a percentage point.
The unemployment rate is now at a quarter-century high of 8.5 percent. Companies have laid off so many workers in the recession that they are already lean, analysts said.
Why do analysts expect only limited economic damage?
The world is now better prepared to deal with health crises, given the experience of SARS (severe acute respiratory syndrome) in 2003 and then the threat of the bird flu, Johnson and other economists said.
Copyright 2018 The Associated Press. All rights reserved. This material may not be published, broadcast, rewritten or redistributed. We strive to uphold our values for every story published.