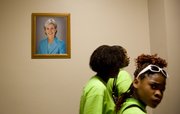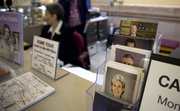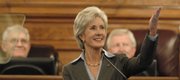 Kathleen Sebelius is the nominee for Secretary of Health and Human Services in Obama's Cabinet. She has served as Kansas' governor since 2002 and before that was insurance commissioner and a state representative.
Topeka — Gov. Kathleen Sebelius was confirmed as the nation's chief health official Tuesday, but her legacy in Kansas may be felt in public schools and the environment.
Sebelius presided as the state's chief executive during a contentious and historic struggle over school finance, which resulted in substantial funding increases to the classroom.
"She was instrumental in securing that a plan came out of the Legislature that was fair to all school districts and addressed the lawsuit," said Kathy Cook, executive director of Kansas Families for Education. "Without her leadership, I don't think we would have had that success."
In 2005, the Kansas Supreme Court ruled the school finance system was unconstitutional because it shortchanged schools with higher concentrations of minorities.
After a legislative standoff with the court, a rare and bruising special session, and then a funding plan that directed increases for equity and at-risk students, the court blessed the finance system in 2006.
Others say Sebelius was more of a facilitator than leader in the school finance battle, but the fact is that since she became governor in 2003, school funding increased nearly 50 percent, from $2.125 billion in state aid to $3.131 billion.
Bob Beatty, a political science professor at Washburn University, said the Kansas Supreme Court did the heavy lifting in the school finance lawsuit by hammering on the Legislature to get something done.
"With the court rulings, there was no need to invest too much political capital," Beatty said.
Beatty said Sebelius' leadership style was not to get too far ahead of public opinion because as a Democrat in a Republican state she was cognizant of her minority party status.
"She didn't like to get too far out in front of issues because I think she thought it could actually hurt those issues," he said. "She did not want to be seen as a Democrat. Her popularity was largely based on the perception that she was looking out for the whole state."
But Beatty said Sebelius broke from that practice on the decision last year to oppose plans to build two 700-megawatt coal-burning power plants in southwest Kansas, citing the project's carbon dioxide emissions.
"She decided to use her political capital for the environment. I'm not sure anyone saw that coming," he said.
Ironically, those decisions on school finance and carbon dioxide continue to occupy much of the Legislature's time. Because of the national recession and dwindling state revenues, lawmakers are fighting over how much to cut from schools.
And supporters of the coal-burning plants again are attempting to override a Sebelius veto of the project.
Copyright 2018 The Lawrence Journal-World. All rights reserved. This material may not be published, broadcast, rewritten or redistributed. We strive to uphold our values for every story published.