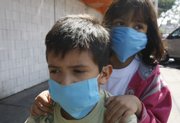 New York — Two cases of the human swine influenza have been confirmed in Kansas and one more in California, bringing the U.S. total to 11. At least eight students at a New York City high school probably have swine flu also, but health officials said Saturday they don't know whether they have the same strain of the virus that has killed people in Mexico.
A strain of the flu has killed as many as 81 people and sickened more than 1,000 across Mexico, where authorities have extended school closures in the capital and two neighboring states with outbreaks.
The World Health Organization chief said Saturday the strain has "pandemic potential" and it may be too late to contain a sudden outbreak.
Kansas health officials said Saturday they had confirmed swine flu in a married couple living in the central part of the state after the husband visited Mexico. The couple, who live in Dickinson County, were not hospitalized, and the state described their illnesses as mild.
Dr. Jason Eberhart-Phillips, the state health officer, said, "Fortunately, the man and woman understand the gravity of the situation and are very willing to isolate themselves."
The man traveled to Mexico last week for a professional conference and became ill after returning home. His wife became ill later. Their doctor suspected swine flu, but it wasn't confirmed until flu specimens were flown to the federal Centers for Disease Control and Prevention in Atlanta.
Swine flu is a respiratory disease of pigs caused by type A flu viruses, the CDC's Web site says. Human cases of swine flu are uncommon but can happen in people who are around pigs and can be spread from person to person. Symptoms of the flu include a fever of more than 100 degrees, body aches, coughing, a sore throat, respiratory congestion and, in some cases, vomiting and diarrhea.
Copyright 2018 The Associated Press. All rights reserved. This material may not be published, broadcast, rewritten or redistributed. We strive to uphold our values for every story published.