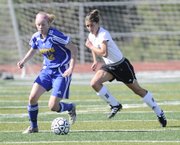 Jason Pendleton sounded more like a professor in art school than Free State High's girls soccer coach on Thursday afternoon.
In the wake of a miserable first half which greatly contributed to his team's 5-1 loss against Olathe South at Free State, Pendleton appeared ready to bust out a brand new box of Magic Markers, Crayolas and whatever other crafts he could find.
"We're going to go back to the drawing board," Pendleton said, "throw that thing in the trash and see about getting a whole new easel and white paper and new pens and see if we can't draw up a better plan of attack. The first half was bad right from the get-go."
In that opening 40-minute session, Free State allowed four goals and netted none. Two of those scores occurred in the first 31⁄2 minutes of the contest, just 24 seconds apart.
"The focus was definitely picked up in the second half," Firebirds defender Mckenzie Liebl said. "We were not ready or prepared for the first half."
Pendleton cited Olathe South's superior tactical approach as a key reason for the Falcons' success. Olathe South continually pressed the action in front of Free State's goal mouth, keeping the Firebirds on their heels defensively. Pendleton also took part of the blame for not adequately preparing his team right out of the chute.
Freshman midfielder Hillary Podrebarac provided the Firebirds' lone bright spot on the field with five minutes remaining in the contest.
Podrebarac collected a cross from Hannah Carlson in front of the goal, settled the ball and chipped a shot over South's goalkeeper for Free State's only score.
It was Podrebarac's first goal of her varsity career.
"I was just so excited," she said. "At first, I didn't believe it. And then all my teammates jumped on me, so that was pretty cool. I was really happy."
Free State, which has struggled to score goals, has been outscored, 20-7, in the season's first nine games.
The Firebirds (3-5-1) played the contest without two members of the team's usual starting lineup. Sophomore forward Rachael Hodison and junior defender Grace Lang sat out because of injuries.
"We're just going to have to overcome it," Pendleton said. "It's part of being a team. If it was an individual track meet, it would be one thing. On a team, you've just got to reconnect the links of the chain however you can to get as strong as possible."
Copyright 2018 The Lawrence Journal-World. All rights reserved. This material may not be published, broadcast, rewritten or redistributed. We strive to uphold our values for every story published.