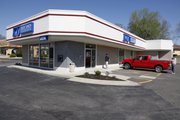 Nan Scott has been driving across town to her bank, KU Credit Union, 3400 W. Sixth St., for the past 18 years.
But with Tuesday's opening of the new facility, 1300 W. 23rd St., Scott said she won't be spending nearly as much money on gas.
"This is really nice," she said. "I'll be missing the candy store that was here, but this is a great replacement."
The new location — where Russell Stover Candies once stood — is about 3,100 square feet and equipped with the usuals, including an outdoor ATM and a night drop for deposits.
But it's what the new facility doesn't have — outdoor drive-through lanes — that sets it apart. Instead, the bank operates two indoor stations, called "pods." The pods are staffed by one to two consultants.
Jordan Urich, branch manager, said she didn't think the indoor-only service would deter anyone from using the bank.
"I think people will get used to coming inside over time," she said.
Rather than working behind a clear-plastic wall, employees use laptops with wireless Internet, which allows them to use offices and the couches in the lobby when helping customers.
"We were shooting for a totally different way of banking," Urich said. "The layout and feel is different from anywhere else you'll see in town."
The KU Credit Union now has three locations in Lawrence and serves about 10,000 accounts.
Copyright 2018 The Lawrence Journal-World. All rights reserved. This material may not be published, broadcast, rewritten or redistributed. We strive to uphold our values for every story published.