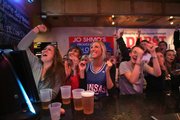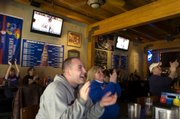 Knowledge isn't usually on the list of things to downsize.
That's a thought that leaders in college communities nationwide say is reassuring during tough economic times.
"We're going through some times that will hurt and that will be tough, but I think this is a time when you count your blessings that you are in a university community," said Lawrence City Commissioner Rob Chestnut.
Chestnut said although there are serious concerns about state funding for Kansas University, there's no talk that the university is going to shut down or shed thousands of employees. The same can't be said of manufacturers that are often the largest employers in other communities.
"You have to keep in perspective what is happening up at the university," Chestnut said. "The job losses that may occur will have an impact, but it is not what we're seeing in other places. There are communities where large employers are talking about taking out 25 percent of their labor force or worse."
Sometimes tough economic times can even provide a boost to the education industry.
"A down economy is a time when some people choose to go back to school," said Mark Gonzales, president of the Lawrence operations of Capital City Bank. "There might be a chance that KU sees an increase in enrollment."
Leaders in Manhattan — home of Kansas State University — and Columbia, Mo. — home of the University of Missouri — largely agreed that university communities are weathering the economic storm better than others.
"There's some softness, but we're still better off than many communities," said Don Laird, president of the Columbia Chamber of Commerce.
And it is not just students spending their money on beer and burgers that has provided some resilience to economies in university towns.
In fact, Gonzales said some business owners have told him that student spending has started to slow as parents are doing their own belt-tightening.
The bigger factor has been research activities at the universities, said Tom Kern, president and CEO of the Lawrence Chamber of Commerce. Kern said university research can be a big boost to a community because the research can be spun into promising, start-up technology companies.
"University communities do have more potential to grow their own businesses, if they understand how to commercialize the research that goes on at a university," Kern said.
Taking steps to better capitalize off of future KU research has been one of the larger economic development efforts of the past year in Lawrence.
In March, the Kansas Bioscience Authority agreed to invest about $3 million into a 20,000-square-foot bioscience incubator facility that will be built on KU's West Campus.
The building is designed to provide office space and lab space for promising startup companies in the life sciences field. Primarily, the center would hope to serve companies that are spun off from research conducted at KU.
Just up the road in Manhattan, research activities have fueled what most consider to be the state's largest economic development victory of the last year.
Manhattan has been selected as the home for the $450 million National Bio- and Agro-Defense facility. Manhattan ended up winning the ultra-competitive selection process, in large part, because of the research capabilities at Kansas State.
"Research activities help our community's economy out a tremendous amount," said John Pagen, the Manhattan Chamber of Commerce's vice president for economic development. "Almost by definition, a college community has a pretty diversified economy.
"You have such a large university staff that has such a wide range of skill sets."
Quality of life
A university presence also can attract more than just jobs. In many college communities, it also has produced steady gains in population.
Lawrence, Columbia and Manhattan — for example — all have experienced larger than average increases in population this decade.
Since 2000, Lawrence's population has grown by 12 percent, and Manhattan's has grown by 15 percent. Both figures are well above the statewide average of 4 percent, according to the Census Bureau. In Columbia, population has grown by 15 percent, compared to a 5 percent average for the entire state.
Laird, the Columbia Chamber of Commerce president, said university towns are a population draw because they often have services that towns of a similar size do not.
For example, Columbia has nearly 850 physicians through a combination of private, government and university hospitals that are based in Columbia.
In Columbia, community leaders have sought to capitalize off that by creating a special marketing program designed to lure retirees to live in the community.
Chestnut said the unique quality of life that KU and Haskell Indian Nations University creates for Lawrence is part of Lawrence's population growth, too.
"What the university brings to the community is a lot of amenities that maybe would only be available in larger communities," Chestnut said. "I can drive from my house to the Lied Center and see world class performances. I can drive 15 minutes and be watching world-class basketball. That may take a lot longer to do in communities like New York or Chicago."
Copyright 2018 The Lawrence Journal-World. All rights reserved. This material may not be published, broadcast, rewritten or redistributed. We strive to uphold our values for every story published.