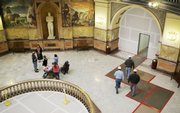 Topeka — The story of Kansas' budget problems can be divided into two distinct chapters — before the federal stimulus package and after the federal stimulus package.
Before President Obama signed into law the $787 billion American Recovery and Reinvestment Act, the Kansas budget situation was dire.
Some blamed state government's financial woes on court-ordered increases in school spending, while others blamed it on cutting business taxes.
But by the end of 2008, Kansas was in the same boat as nearly every other state — swimming in red ink that was brought on by a worsening national recession.
"The economy overall has taken a significant turn for the worse," Alan Conroy, director of the Kansas Legislative Research Department, said in November as budget experts revised their revenue projections downward.
Because of the deepening recession, funds for the current fiscal year were projected to be $137 million short. And the shortfall for the fiscal year starting July 1 was nearing $1 billion.
But the news got even worse. By the time the Legislature started its session in January, the immediate shortfall had reached approximately $200 million.
Waiting lists were established for some social services, all state agencies were called on to cutback. At one point, state coffers were nearly empty, forcing a delay in income tax refunds.
In the next few weeks, and after a brief standoff between Gov. Kathleen Sebelius, a Democrat, and Republican legislative leaders that threatened to delay state employee paychecks, officials agreed on a $300 million rescission in the current $6.4 billion state budget.
Sebelius signed the deficit reduction measure on Feb. 17. Kansas lawmakers then turned their attention to the next fiscal year budget and predicted much deeper cuts.
State Sen. Jay Emler, R-Lindsborg, chairman of the Senate Ways and Means Committee, told state agencies that 10 percent cuts were possible and cuts of up to 19 percent were not out of the question.
But on the same day, Sebelius signed the rescission bill, Obama went to Denver and signed into law the federal stimulus package.
As the federal bill had been moving through Congress, Sebelius appointed a group of agency chiefs to keep tabs on what was going on. Even so, many state legislators, Republican and Democratic, were wary of the potential largesse from Washington, D.C.
They fretted that too many strings would be attached to the federal dollars, or that the state would have to spend more to get more.
After Obama signed the stimulus bill, it took a few days for Kansas officials to realize the impact of the legislation.
Kansas would receive approximately $1.7 billion over the next two years. Some of the funds had strings attached, but some didn't.
Included in that amount, Kansas will receive $440 million in Medicaid funding, $377 million for highway projects and approximately $585 million for education. Some of the funding could be used to replace state tax dollars, and those tax dollars could be plugged into other areas of the budget, officials said.
Bottom line: The state budget situation improved greatly with the release of federal funds. Talk of 10 percent budget cuts disappeared.
But if the economy doesn't rebound, lawmakers could be looking at a severe revenue shortfall in a couple of years when the federal tap runs dry. Senate Majority Leader Derek Schmidt, R-Independence, described the federal stimulus effect on the state budget process as an "exercise in delaying difficult choices."
Copyright 2018 The Lawrence Journal-World. All rights reserved. This material may not be published, broadcast, rewritten or redistributed. We strive to uphold our values for every story published.