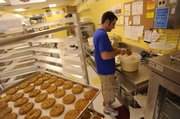 Michael Neth is hoping to cook up some good news.
Amid economic turmoil, Neth and his business partners have decided to take matters into their own hands.
They opened a franchise of Eileen's Colossal Cookies near Sixth Street and Wakarusa Drive in January. Neth said he and his partners decided to go forward with the new store even during the scares of the downturn.
"Pretty much the main thing is getting word out there," Neth said. "We have a lot of repeat customers coming in. They come in and say, 'We didn't know you guys were here. Now we do.'"
It helped the franchise supported the venture, and Neth said he felt comfortable they could meet a market niche of decorated cookies in western Lawrence.
The right time
A recession can be a scary time to even want to think about starting a business, but it also can be an opportune time for several reasons due to the popular mantra: Buy low and sell high, said Brad Sugars, a business coach and columnist for entrepre-neur.com.
The Lawrence Chamber of Commerce has received more calls from people asking for information about starting up their own businesses, said Beth Johnson, the chamber's vice president.
That's typical during a rough period where some workers, like in the construction business, want to start their own remodeling ventures or other projects.
In 2008, the Kansas Secretary of State's Office reported 16,618 filings for new businesses. That was down 1 percent from the year before, but it was also slightly more than the number of new businesses that filed in 2006, which was more financially stable.
Sugars said there are several good reasons to look at starting a business during a recession.
For smaller ventures especially, goods can be cheaper reducing startup costs, and it also will likely be easier to hire more and people who are better qualified, due to other companies having layoffs, he said.
At Eileen's Colossal Cookies in Lawrence, Neff said he almost got an overwhelming response from potential employees when he advertised his positions in the store.
"I was able to narrow it down to people who were good interviews and had decent experience," he said. "They also could bake and follow directions I gave them. They have good personal skills with customers. It's just finding who you like and getting along with people who work hard for you."
Sean Passmore also recently started the Bling Drop-off Store downtown near Ninth and Massachusetts streets. He benefited from low startup costs to start his auction-based business, where he charges 30 percent commission and other fees to take in items people want to auction.
Passmore then sells them on the popular Internet auction Web site, eBay.
Challenges, opportunities
Even with the a potentially huge benefit to starting a new business during an economic downturn, it does not come without risk.
Wally Meyer, director of Entrepreneurship Programs at Kansas University, said small-business owners can even feel more of a crunch — especially today — because credit is tight. This could hamper startups, and consumer confidence is also low, which can be difficult.
But there are also huge benefits, especially if the business survives and the recession starts to wind down, because typically the prosperous periods last for much longer than economic downturns, Sugars said.
Kylie Stupka, executive director for the nonprofit Young Entrepreneurs Kansas, based in Wichita, said it is important to support small businesses and entrepreneurs especially during an economic recession.
"The people who are going to get us out of this mess are the small business owners and entrepreneurs who are going to go out there and create jobs," she said.
Neth, at Eileen's Colossal Cookies, said he and his partners feel comfortable they are meeting a market need with their cakes and cookies. They are happy with their customer base they are building.
The staff is also optimistic that it business will still improve once the weather starts to get warmer every day, as more people tend to get out and about.
"It really is location, location, location, and finding a good spot in a good economic area and supporting a lot of people," Neth said.
Copyright 2018 The Lawrence Journal-World. All rights reserved. This material may not be published, broadcast, rewritten or redistributed. We strive to uphold our values for every story published.