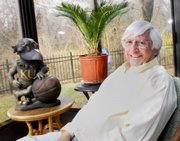 John "Jack" Bushman worked as a Kansas University professor in English education for 34 years before he retired in 2005.
Now 68, Bushman enjoys a relatively peaceful life in his Ottawa home and never misses his monthly Friday night bridge game.
But if the economy continues its current downturn, Bushman could be in a bit of trouble.
He's lost about half of his retirement savings invested in the stock market in the last year and a half. He said he's doing OK now, but things could get worse in three to four years if the economy doesn't improve.
"If I were 28 years old, there would be a chance that I could get it back by the time I retired," he said. "But at my age, I'm not going to live that long. So I've lost it; that's how I look at it."
Bushman and most of the other 36 million retired Americans are in the same boat, having lost much of their 401(k) retirement funds to the stock market.
Donna Ginther, professor in economics at KU and director of the Center for Economic and Business Analysis, said there is no good choice for those without a fixed income and fully invested in the stock market.
"If you take money out of the market, then you have lost any potential upside gain," she said. "If you hang it out, there's a lot of uncertainty about what the market's going to do."
The dramatic cut into their savings is forcing some retirees to come out of retirement, but that's easier said that done.
The median age of retired Americans is 72, according to the AARP, which makes re-entering a job market with shifting skill sets an even greater challenge with college students graduating all the time and unemployment rates constantly rising.
"It's not just that stocks are down, but companies are struggling, too," said Kevin Merrow, financial adviser with AARP Financial. "They may be looking for someone who is fresh out of college who won't demand a high salary."
Peter Knutson, owner and vice president of McDaniel and McDaniel financial services, said a job out of retirement might not be ideal.
"You have to be willing and able to do what it takes," he said. "It might be a matter of taking a step back to take a step forward."
Another group of people deeply affected by the state of the stock market are those preparing to retire. For them, Merrow said, it can be disheartening.
"The unfortunate reality is that a lot of people have to change their goals," Merrow said. "Some people had this ideal situation to live happily ever after. The last year and a half changed that."
Knutson said he advises people to consider working as long as they are able.
"If you can still work, you're better off earning the money you can than tapping into your savings," he said.
More Americans are latching on to that idea. In a 2008 national AARP survey, 65 percent of workers age 45 and older said they would delay retirement and work longer.
A Gallup survey last year found that 63 percent of Americans are worried they won't have enough for retirement.
"Some clients who are 25 to 35, this is just a bump in the road," Knutson said. "But for those who are 55 and older, they've got legitimate concerns."
Despite the economic outlook and difficulties addressing those retired or about to retire, Knutson said, chuckling, that it's always a good time to retire.
"You just don't know how long you can stay retired," he said.
Copyright 2018 The Lawrence Journal-World. All rights reserved. This material may not be published, broadcast, rewritten or redistributed. We strive to uphold our values for every story published.