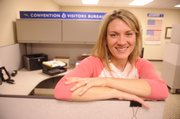 Upcoming conventions • Knights of Columbus: April 30-May 4 • Kansas Postal Workers Union State Convention: May 1-2 • Kansas HOG Rally (Harley Owners Group): June 4-7 • Kansas Dental Hygienists' Association: Sept. 24-26 • Kansas Environmental Education Conference, by the Kansas Association for Conservation and Environmental Education: Nov. 6-8 • Miss Kansas: Dec. 18-20
Like many others in Lawrence, Anne Buhler Dillon found she just couldn't get away.
Born and raised here, she attended Colorado State University in Fort Collins, Colo., for her bachelor's degree in communication but later returned to the Sunflower State as her life and professional career unfolded.
As the new convention marketing manager of the Lawrence Convention and Visitors Bureau, she's helping people realize Lawrence isn't just a fantastic place to live — it's also a great place to visit.
"When you step into Lawrence, it's not like stepping into a big, typical convention center city," Dillon said. "It's a different experience."
Present success
The Lawrence Convention and Visitors Bureau estimated visitor spending was up by 16.8 percent to $57.39 million in 2008. Several factors contributed to the increase — Kansas University's national basketball championship being one of them — but that's not the whole picture.
"It's pretty clear that most of that increase was probably leisure travel," said Susan Henderson, the bureau's marketing director.
And that, Henderson said, is great for the city.
"As people stick closer to home, that's really good for Lawrence," she said, "because we're able to draw from those metropolitan areas where people are. They're not looking for the Chicago or New York City getaway, but they're looking for a getaway."
Much of the bureau's job is to get people to consider Lawrence as that getaway spot. It's reasonably priced, Dillon said, and boasts a range of options among the city's 1,200 hotel rooms.
Even location can be an advantage for state and regional meetings, because of its proximity to Kansas City and its airport.
A flair for festivities
One case of convention business in Lawrence was the recent Kennedy Center American College Theater Festival, which was Jan. 19-23.
Jim Peterson, technical director of KU's University Theatre, offered to bring the festival to Lawrence.
"It's nice to have it here in Lawrence because I'm very proud of our city," he said. "I love to show off Lawrence."
Peterson said the bureau proved invaluable in arranging transportation, obtaining hotel bids and working through logistical details as they arose.
"They were absolutely great to work, with as far as I'm concerned," he said.
The festival brought 1,600 people to Lawrence, and the bureau estimated the event brought in about $1.1 million to the local economy.
"It sold Lawrence out, pretty much," in terms of hotel rooms, Henderson said.
She credited Peterson and Katherine Pryor, managing director of theater and film, for helping bring the festival to Lawrence.
"It was a classic case of them thinking local and really personally, having a big impact on our city's economy," she said.
Future goals
One of the bureau's strategies to increase such events here involves the human touch. Dillon is in Topeka at least weekly to make one-on-one calls with state and regional meeting planners.
Often, the people she meets with are unaware of the bureau's resources to convention planners, including free welcome bags, visitors' guides, registration assistance and name badges.
Another strategy is to convince the people already here to consider bringing their state and regional meetings to Lawrence. Henderson describes it this way: "Bring your meeting home instead of going to your meeting."
Dillon agreed.
"Lawrence is unique, which is what you have to figure out if that's what the group is looking for," she said. "And if it is, it's perfect."
Copyright 2018 The Lawrence Journal-World. All rights reserved. This material may not be published, broadcast, rewritten or redistributed. We strive to uphold our values for every story published.