Before signing a lease, be sure to read the fine print — all of the fine print. Here are some areas to watch out for before sealing the deal.
• Automatic renewal
Many leases have clauses requiring tenants to notify their landlord if they aren't going to renew their lease. The automatic renewal clause sometimes kicks in six or more months before the lease is up. Bill Larzalere, with KU's Legal Services for Students, said many landlords provide plenty of notice about when to renew, but sometimes that detail is hidden in fine print in the lease.
• Late fees
Make sure you know your landlord's policy for charges on late rent. Robert Baker, with Housing and Credit Counseling Inc., said along with charging a fee for every day the rent is late, some landlords apply the payment first to the late fees and then to the owed rent. For tenants who just have enough to cover late rent and not extra fees, they could see a ballooning amount of unpaid bills.
• Agreements with roommates
Longtime landlord James Dunn advises prospective tenants to know their housemates well. One test he has for just how well the renters know one another is whether they can give their roommates' middle names when filling out an application.
Housemate relations aren't just a matter of making sure personalities mesh. If one of the roommates leaves, the others are on the hook for that portion of the rent, Dunn said. He used to advise housemates to sign an agreement that settles matters such as who will put the utilities in their name and who will buy the tissue paper.
• Getting your deposit back
When it's time to move out, find out whether the landlords have a preset schedule on how much it costs to fix certain items, such as replacing burned-out light bulbs. If tenants know what is being charged, they can often go ahead and fix something for much cheaper, Larzalere said.
Dunn also advises renters to remember that damages assessed to renters can often run higher than a deposit. When that is the case, the renter will get a bill after he or she leaves.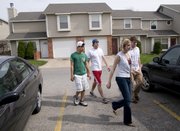 When Kansas University junior Stephanie Reaves was looking to move from an apartment complex to a house closer to campus, she anticipated the economy working in her favor.
"There's not a lot of difference," Reaves said. "We thought there'd be a few better deals, but we never came across any."
Nationally, the cost of rent is down. The Wall Street Journal recently reported that among the country's 79 largest markets, vacancies jumped to an average of 7.2 percent and asking rents fell 0.6 percent.
But in Lawrence, buffered by record student enrollment at KU, rents are steady. In fact, some students last week said their rent had gone up anywhere from $180 to $600 a year.
After seeing her monthly rent go from $380 to $400, KU sophomore Katie Meyer is looking elsewhere.
"That's way too expensive," she said.
But some think it's about to become a renter's market.
"If we aren't at a tipping point, we very possibly will be very soon," said Robert Baker, with Housing and Credit Counseling Inc.
Baker is among those who have noticed an onslaught of apartment specials, offering lower deposits or reduction in rent for those who sign leases early or have good credit.
Late winter to early spring is when KU students scramble to line up housing for the next school year — months ahead of when the massive apartment migration takes place at the end of July.
Each year, Bill Larzalere, with KU's Legal Services for Students, reviews students' prospective leases. So far, he said, the rent prices haven't escalated, but the specials have.
"It seems to me like there's more this year," he said.
Rentals in foreclosure
Larzalere also noticed another trend.
Last year for the first time, Larzalere counseled students who were living in properties that were in the foreclosure process. None of the tenants was evicted, but they were uncertain of how long they could live in their unit.
Records from the Douglas County Sheriff's Office show that several apartment complexes and units have been auctioned off at sheriff's sales in the past year. In most instances of foreclosure auctions, ownership is passed to the bank.
Tenants who've received foreclosure warnings on their doorsteps have come into Housing and Credit Counseling Inc. asking for help.
"We had to come up with a foreclosure timeline because there were so many people calling us about Jane or John Doe notices. And they had found out later that it's (up) for sheriff sale," Baker said.
James Dunn, president of Landlords of Lawrence Inc., said he hasn't seen the foreclosure crisis affect rental prices. Neither has appraiser Tim Keller, who for several years has tracked vacancy rates in Lawrence.
"Last year was a pretty good year for apartment owners," said Keller, who is president of Keller & Associates.
New units
What Dunn and Keller point to as a market changer are the more than 700 new units that are expected to come onto the market this fall. Three new projects will account for around 4 percent of the more than 16,000 rental units in Lawrence.
This fall, The Exchange, which is under construction at 31st Street and Ousdahl Road, plans to lease 60 percent of the 324 units its building.
At Remington Square, which is just off of Clinton Parkway and Crossgate Drive, 224 studio and one-bedroom apartments will come on the market starting at $500 a month. And, just across the street on 24th Place, The Grove is expected to start leasing 60 percent of its 500 units.
In 1996, Lawrence saw a comparable jump in rental housing, which had existing property companies and landlords fearful of rent prices dropping and vacancies soaring.
Vacancies did go up slightly and landlords had to be willing to grant more concessions.
"But the sky didn't fall," Keller said. He predicts a similar outcome this time around.
Dunn has a slightly bleaker take. "I think we are going to have lots of vacancies. We don't need new complexes. We already have a glut," he said.
Dunn — whose properties are near downtown and don't offer the basketball courts, lounge areas and swimming pools found at the bigger apartment complexes — doesn't see the added units as competing for his renters. But he does think they will draw renters from the aging complexes closer to campus and the university's dormitory housing.
Special promotions
Mary Gage, owner of Gage Management, sees the new complexes as targeting a clientele looking for luxury apartments that come with higher rent prices, which is different than the renters her company does business with. Still, she expects to see a difference in the market.
"You can't have so many extra apartments and the same basic student population without spreading it too thin," she said.
Dunn said that vacancies aren't going to lead to lower rents, but he said that landlords might become more lenient on pets, smoking or how many people can occupy a unit.
Brittany Snow, a leasing agent at Gage Management, said specials for one month's free rent or lower deposits are a year-round staple. Right now, two of the company's properties, Sunrise Village and Sunrise Place, are advertising short-term leases and half-off deposits.
The property management company, which oversees about 600 units in everything from homes to apartment complexes, started receiving inquiries as early as February for leases that begin in August.
While the cost of rent has crept up slowly over the past 15 years, Gage said the trend of offering special promotions took hold a little less than a decade ago with the housing market.
"More people started buying homes for their students instead of paying rent," she said.
This year, rent for most of the company's properties has stayed the same. A few have gone up, but with those increases come specials and discounts.
"The owners are feeling the economy as much as the renters are," O'Donnell said.
Copyright 2018 The Lawrence Journal-World. All rights reserved. This material may not be published, broadcast, rewritten or redistributed. We strive to uphold our values for every story published.