Photo Gallery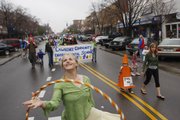 9th Annual Earth Day Celebration
Having just joined the recycling committee at work, Beth Merryfield decided this was the year to march in Lawrence's annual Earth Day Celebration.
She brought along her mother and longtime recycler, Nelda Liebig. The duo — dressed in bright floral printed dresses, donning summer hats plastered with flowers and carrying a globe — represented Mother (and daughter) Earth.
Their entire costumes were made from reused items, said Merryfield, a self-proclaimed Dumpster diver.
The two were part of the hundred or so people who paraded down Massachusetts Street on Saturday morning. Some traveled in pedicabs, unicycles and biofuel trucks. Others used hula hoops. And a pair rode in a two-seat bicycle, a sailor in front and a mermaid in the back.
For the White family, the Earth Day parade is an annual festivity. Nine years ago, mom Stacey White helped organize the first event, inspired by the parade of species in Missoula, Mont.
No longer an organizer, White has created a family tradition of wearing animal hats in the parade. In past years they were crabs, frogs, monkeys and penguins. This year her "very patient husband" Scott, 8-year-old son Thomas and 6-year-old son Isaac were bats.
"Usually we are worried about environmental problems and how to make them better. But today we celebrate," White said.
About 30 groups were in Saturday's parade, which is organized by KU Environs. The parade was an opportunity to bring the university and community together, said KU sophomore Lauren Ashman, who was dressed like a wind turbine, wearing all white and a head piece of cardboard blades.
"I think we need to grow the connection between the two," Ashman said. "Especially in terms of the environment, I think we can work together to make a really positive change."
After the parade, participates fanned out over South Park, where more than 50 vendors had set up shop.
The Earth Day Celebration, which was hosted by the City of Lawrence's Waste Reduction and Recycling Division, went on all afternoon and had free vegan food, alternative-fuel vehicles, tree identification walks, a water conservation education station and booths about recycling.
Copyright 2018 The Lawrence Journal-World. All rights reserved. This material may not be published, broadcast, rewritten or redistributed. We strive to uphold our values for every story published.