Photo Gallery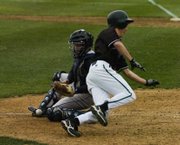 Free State baseball vs. Champaign Centennial
Kansas City, Kan. — Nick Hassig witnessed it in Little League. Once. He thinks.
Other than that, Free State High's left fielder can't remember the last time one of his baseball teams strung together an inning like the one his Firebirds unleashed in their 12-2, five-inning, run-rule-shortened victory Friday night against Champaign (Ill.) Centennial at CommunityAmerica Ballpark.
"We just kept getting people on base," Hassig said. "It was a good rally."
One by one, every Free State baseball player in the starting lineup strolled to the plate in the first inning Friday night.
And one by one, all of them scored. Most even squeezed in two at-bats during the inning.
All this from a Firebirds team that entered the contest averaging less than four runs a game and hadn't scored more than eight runs in any game all season.
So 41 minutes later, after 15 Free State batters had come to the dish and the first 10 scored, even the Firebirds couldn't believe what they were seeing.
"I was surprised," right fielder Connor Stremel said. "It got me a little amped up. I was proud of everybody. It was great."
One day after the Firebirds plated just one run on three hits in a 2-1 defeat against winless Roeland Park Miege, they responded in a big way from the get-go in their second game of the River City Baseball Festival.
Needless to say, it was the kind of offensive output Free State had waited a long time for.
"I'm sure I've seen it at some time or another, but certainly not lately," Free State baseball coach Mike Hill said. "That's unquestionably the shot in the arm that we needed."
Stremel got the ball rolling in the first with a leadoff double down the third-base line off Chargers starting pitcher Kevin Johnson, the first of five hits in the inning.
"Getting it started off with that double, everybody fed off that energy and just kept it going," Stremel said.
The rest of the inning couldn't have played out much better for the Firebirds (8-1). Or much worse for the Chargers (10-2). Johnson walked the next four batters — Hassig, Cody Kukuk, Adam Petz and Ryan Scott. Designated hitter Michael Lisher then legged out an infield single, scoring Kukuk for a 3-1 lead.
Tyler Hatesohl reached on an error, which scored two, and No. 8 hitter Colin Toalson walked.
By the time Johnson left after facing Toalson, he had retired none and trailed, 6-1. Relief pitcher Brandon McKinney didn't fare much better, allowing the final four runs to cross the plate.
"We've talked about all the pressure that we've been putting on our defense and our pitching staff," Hill said. "You get 10 in the first, that certainly puts some people at ease."
Scott picked up the victory, allowing four hits in five innings on the mound. Stremel led the Firebirds offensively with two doubles and three runs scored. Kukuk added two hits, including the game-clinching RBI single in the fifth that invoked the 10-run mercy rule.
"We're going to feed off this and keep going," Stremel said. "This is just the start for us. You're going to see this a lot more."
Free State will take on Lee's Summit (Mo.) West at 11:30 a.m. today at CommunityAmerica Ballpark on the final day of the River City Baseball Festival.
Copyright 2018 The Lawrence Journal-World. All rights reserved. This material may not be published, broadcast, rewritten or redistributed. We strive to uphold our values for every story published.