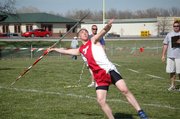 Tonganoxie — On a picture-perfect spring day Thursday, Jeremy Elliott threw the javelin 142 feet, 8 inches — his best so far this season and good for first place in front of the home crowd.
The excited Tonganoxie High School junior, a multi-sport athlete, snagged a big gold medal. A little later, he and a friend picked up the outfit he planned to wear to tonight's prom.
But Elliott won't be attending prom.
The 17-year-old died in his sleep Thursday night from what an autopsy determined was a heart condition.
Family friend Kurt Young said that Elliott had the condition "for a little while" and that doctors hoped he'd "grow out of it."
"He was in great physical condition," Young said. "He was a specimen."
Elliott thought his heart was racing Thursday evening, Young said, but he went to eat and felt better.
"There really wasn't any concern," Young said. "He'd had that before on multiple occasions."
Elliott was involved in football, wrestling and track at THS and also was a member of the school's powerlifting team.
And he had the academics to match his presence in athletics.
A member of the National Honor Society and a regular on the honor roll, Elliott was recognized at the school's Educational Excellence Banquet in March on the Kansas University campus. To be recognized at the ceremony, students must maintain a 3.6 grade-point average for at least the previous two semesters.
He enjoyed fishing and was an active Boy Scout who nearly had completed the requirements for Eagle Scout. He'll receive that honor posthumously.
Dirk Scates, senior minister at Tonganoxie Christian Church, announces THS track meets.
"I was watching him throw javelin," Scates said Friday. "As I announced last night and saw that he won, I thought 'Wow.' That was huge for him to win with 142 feet and some change. … Just a good kid. He had a great attitude. I was thrilled to see him win the javelin."
Scates and a number of other adults gathered Friday at Tonganoxie High School to do what they could to help students as they grieved.
"There really isn't much you can say," THS football coach Mark Elston said. "About all you can do is lend a shoulder if they need a hug, you give them a hug and let them talk if they want to talk.
"Some kids wanted to talk and some kids wanted to keep things inside. It was really good to all be around each other and not in isolation."
Elliott's death comes at a time that three other THS students are battling serious health issues.
"The Tonganoxie kids have been through a lot emotionally in the last month," Elston said. "A lot of it came out in that room."
Copyright 2018 The Lawrence Journal-World. All rights reserved. This material may not be published, broadcast, rewritten or redistributed. We strive to uphold our values for every story published.