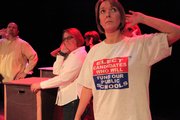 It's showtime at Liberty Hall tonight as Lawrence educators get ready to take the stage for the 19th annual Foundation Follies.
The variety show has a bit of something for everyone, and co-director Carolyn Welch says it definitely will be a good time.
"It's a fundraiser that tends to be kind of a ruckus, and it's very creative. It has a bit of a variety show flavor sometimes. There's good food, drinks and friends. It's just a really fun, fun evening of entertainment."
Superintendent of Schools Randy Weseman will perform his grand finale this year after being a show staple for the past 18 years. Welch says that part of the show will be sure to please.
"He is actually a very good musician … a good guitar player and a good singer. He has a way with words. It's always a highlight."
Performer and Sunflower School fourth-grade teacher Martha Wenzel says their act for this year has a unique significance.
"This year we have a really special performance that is dedicated to our faculty member that died earlier this year," she said. "I think it's really going to move people."
Money raised at the event will benefit the Lawrence Schools Foundation. The hope is to raise more than $30,000 — the approximate total from last year.
The Follies has a fiesta theme this year and will begin 7 p.m. at Liberty Hall. The curtain goes up at 8 p.m. Balcony seating is $35 a person and $25 for staff. Lower level seats can be reserved for $50.
Copyright 2018 The Lawrence Journal-World. All rights reserved. This material may not be published, broadcast, rewritten or redistributed. We strive to uphold our values for every story published.