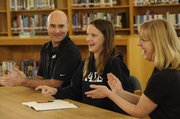 The first day of the spring signing period was met with enthusiasm at Lawrence's two biggest high schools, as student-athletes at Free State and Lawrence High signed national letters of intent with their respective colleges on the first day they were allowed to do so.
At Free State, senior swimmer Molly Albrecht signed with Yale University in the FSHS library, with dozens of friends and family members on hand.
Because Yale, an Ivy League school, does not give out athletic or academic scholarships, Albrecht dubbed her signing as more of an "official commitment." She had known for months that Yale was the place for her and also knew that the Bulldogs were happy to add a swimmer and student of her caliber.
During her FSHS career, Albrecht's academic and athletic achievements have followed a similar line. In addition to being named a National Merit Finalist and an AP Scholar, Albrecht also earned All-American honors in two events last swimming season and is on pace for more of the same this season.
She said she chose Yale over Harvard, Brown and Kansas University because the New Haven, Conn., school offered the total package.
"It's really different than how it's portrayed in movies or how I thought of it before I visited," Albrecht said. "They're all real people there, who have worked really hard and are all really well-rounded. It's not just a bunch of geniuses."
Across town at Lawrence High, senior Dorian Green signed a letter of intent to play basketball at Colorado State University.
There he sat, in the LHS library, for his final official act as a Lawrence High basketball player. Looking as cool, calm and collected as he always did on the court, Green flashed his friendly smile throughout the moments that led up to him putting pen to paper.
First, Lions coach Chris Davis talked about what the 6-foot-1 guard meant to the LHS program throughout the past three seasons. Davis also shared stories of the recruiting process in which he advised Green as much as asked and got to know CSU coach Tim Miles as well.
Then, LHS principal Steve Nilhas talked about how Green represented the ideal LHS student-athlete and how he felt fortunate to have watched Green's career.
After a round of applause and more smiles, Green made his commitment to CSU official as friends and family members watched with joy.
For Green, the actual signing was little more than a formality, the final step in the process that cements the next four years of his life. But after it was over, he admitted that the signing was more fun that he had anticipated.
"I really couldn't have picked anything better if I had drawn it up," he said. "I'm excited and I'm ready to get out there."
For the Colorado State coaching staff, which was prohibited from commenting on Green until receiving his signature, Wednesday marked the official beginning of a highly-anticipated era of CSU basketball.
"I don't know much, but I know a player when I see one," Miles said. "And I know that I do well with guys who know how to play the game. That's why I'd go to war with a guy like Dorian Green any day of the week. I'm really excited about this recruiting class and I'm excited that Dorian's a part of it."
Green was joined at Wednesday's signing by teammate Lance Kilburn, who inked a letter to play basketball at South Dakota School of the Mines, an NAIA school in Rapid City, S.D.
Also signing earlier this spring was Seabury Academy senior Gus Wigen-Toccalino, who signed to play football at Division III DePauw University, located in Greencastle, Ind.
Copyright 2018 The Lawrence Journal-World. All rights reserved. This material may not be published, broadcast, rewritten or redistributed. We strive to uphold our values for every story published.