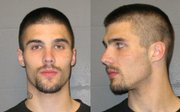 A Lawrence man accused of stabbing a 15-year-old boy at a city park is scheduled to appear in Douglas County District Court on Tuesday.
Clayton Cumpton, 21, is charged with one felony count of aggravated battery in the April 5 incident in the parking lot of Hobbs Park near 11th and Delaware streets, court records said. The stabbing victim was treated and released from the hospital the same day.
Police said the late-night stabbing happened after a fight between two groups of people.
Cumpton, who was arrested April 7 at his home, is scheduled for a brief 9:30 a.m. court appearance Tuesday in front of Judge Peggy Kittel. He's being held in jail on $4,500 bond.
Copyright 2018 The Lawrence Journal-World. All rights reserved. This material may not be published, broadcast, rewritten or redistributed. We strive to uphold our values for every story published.