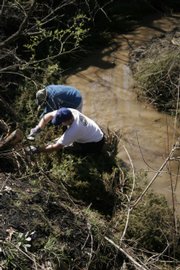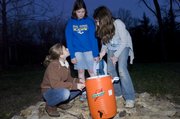 When Olivia Marshall tells classmates she's going camping at Hidden Valley Camp, they usually have the same reaction.
Where?
"I tell them it's in the middle of Lawrence. And they're like, 'What?'" says Marshall, a ninth-grader at Central Junior High and member of Girl Scout Troop 7661. "It really is hidden."
As a key structure at the camp turns 50 this week, leaders are trying to make it more visible in the community, while also launching a key restoration project to preserve the site for the future.
"We might as well have people know about us, help us and protect us," says Durand Reiber, camp manager since 2001.
For the record, the camp is situated on 40 acres northwest of Bob Billings Parkway and Kasold Drive.
First things first: the celebration. The Arcalooka Cabin, built by students from Haskell Institute, is turning 50. It was named for a Cherokee tribal chief who, according to lore, was deeded the property for his participation in the War of 1812.
The cabin is a fairly simple structure, with cinder blocks covered by bricks. A slab floor inside provides a place for Girl Scouts to sleep, meet or hold cookouts.
"It's a nice transition," says Jill Giele, president of Friends of Hidden Valley. "Some of the younger girls aren't ready to sleep in tents yet."
But the structure is showing its age. Leaders recently replaced its windows, and it's in need of a new roof and furnace.
"It's 50 years old," Reiber says. "It's served us well."
Meanwhile, the overall camp — which celebrated its 50th anniversary two years ago — is undergoing a renovation of its own.
Most of the work on the property — which in addition to the cabin includes a tree house, yurt and composting outhouse — is focused on its natural resources.
Work is under way to keep Quail Creek, which runs through the camp, from further eroding valuable land. Reiber says additional water diverted to the stream after a city storm sewer project several years ago has led to more of the creek's bank to slough off.
With help from K-State Research and Extension, workers have put a layer of cedar branches at the bottom of the bank and will plant willow chutes. The cedar will collect sediment to build up the base of the bank, while the willows will sprout and provide a network of support for the rest of the bank.
"We're really going to lose a lot of the camp if we don't do something," Giele says.
At the same time, the volunteers are battling an invasive Japanese honeysuckle that is wiping out the underbrush and diversity of the camp.
It's all in an attempt to preserve the camp for Girl Scouts such as Brianna Spence, a ninth-grader at West Junior High School and also a member of Troupe 7661.
"I've made so many different friends out there," Spence says.
And she's happy with the idea that the space can be open to more than just Girl Scouts.
"There's even Boy Scouts that go out there," she says. "We let them. We're not mean."
Copyright 2018 The Lawrence Journal-World. All rights reserved. This material may not be published, broadcast, rewritten or redistributed. We strive to uphold our values for every story published.