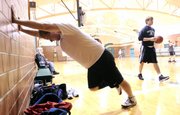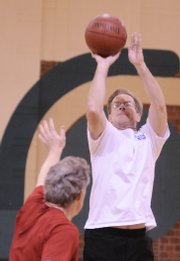 Rob Chestnut makes his living by examining finances, which made it all the more concerning that when he joined the Lawrence City Commission two years ago, he often got an uncomfortable feeling when he looked at the city's spending.
"I felt like we had bought a house that had a mortgage that was a little bit more than we could afford," Chestnut said.
On Tuesday, Chestnut will get his chance to be the leader of the household, so to speak.
Chestnut's fellow commissioners at their weekly meeting are expected to select Chestnut — the chief financial officer at Lawrence-based Allen Press — to serve a one-year term as mayor.
When Chestnut, 47, joined the commission in 2007, the previous commission had just finished up a year during which it spent $3.3 million more than it received in property and sales taxes. Chestnut believes the commission the last two years has done a good job of keeping spending balanced with revenues.
But now, the commission will face a new challenge. As the area real estate market struggles, declining property values are expected to result in a decrease in city property tax revenues. The decline in assessed valuation will be the first in recent memory, if it materializes.
That's why Chestnut said he doesn't plan to begin his term as mayor with any proclamations about new projects or initiatives he hopes to accomplish. Instead, he said he wants to work on garnering agreement on how the city should spend the money it does have.
"The first thing we have to do is get some consensus about what we consider to be our priorities," Chestnut said.
Levels of service
Chestnut said he'll lobby for protecting core services such as police, fire, sanitation, water, sewer and public works. But already, concern is mounting among social service agencies about possible cuts in city funding.
One of the two new commissioners elected in last Tuesday's elections, Aron Cromwell, has said he'll fight cuts to social service funding.
It may be a debate in the making because Chestnut said he's worried that cuts in state funding to the city will necessitate reductions in social service funding. Even if the state cuts don't come, Chestnut has expressed concern about the past growth rates of social service funding.
"A significant level of social service funding growth came when we were doing deficit spending," Chestnut said.
Chestnut said he wants to avoid dipping into the city's fund balances — the city's version of a savings account — to craft the 2010 budget. But he said he couldn't entirely rule out such a scenario. He also said he couldn't say for certain that he wouldn't support a "minimal" increase in the city's property tax rate to make the budget work.
"I want to start the discussion, though, by saying we're going to live within our means," Chestnut said.
Other concerns
On other issues, Chestnut said:
• He wants the city to increase its efforts to help the Lawrence Community Shelter find a new location to serve the homeless. The special operating permit for the shelter, currently located downtown, only has one more year left before it either expires or would need to be renewed.
• He expects money from a trio of new sales taxes to start producing tangible results in improving the city's transit system and the city's roads, sidewalks and infrastructure.
• He hopes the city can come closer to a resolution on purchasing the vacant Farmland Industries property on the east edge of town and converting it into a business park. He said he still thinks the city purchasing the property is the most viable option for getting the site cleaned up and back to use.
"There's going to be a lot to do next year," Chestnut said.
But in addition to the daily issues, Chestnut said he'll work to keep the city focused on some longer-term issues — such as honing the city's economic development strategy.
"It is going to be a balancing act," Chestnut said. "I think a lot of businesses and a lot of households are dealing with the same issue. They look at things a lot on a day-to-day basis, but they also have to remember that economic times will change. They will get better, and we need to make sure we're planning for that, too."
Commissioners meet at 6:35 p.m. Tuesday at City Hall, Sixth and Massachusetts streets.
Copyright 2018 The Lawrence Journal-World. All rights reserved. This material may not be published, broadcast, rewritten or redistributed. We strive to uphold our values for every story published.