Photo Gallery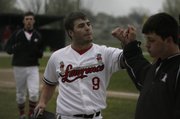 LHS baseball tops O-North
LHS baseball defeated Olathe North, 2-1, April 9, 2009.
Call it the Lawrence High baseball team's third-and-a-half victory in a row.
Thursday, under threatening skies and strong gusts of wind, the Lions completed 41⁄2 innings of play and left Ice Field with a 2-1 lead that likely will count officially as a victory.
Lions coach Brad Stoll said LHS officials would call the Kansas State High School Activities Association today to confirm that the outcome was official. But as of Thursday night, the Lions were chalking it up as a victory.
That posed a good news-bad news scenario for LHS starter Dorian Green. When the skies opened up, Green had pitched five innings, struck out six Eagles and allowed just one hit. For most, grabbing a victory while doing half the required work would be cause for celebration. For Green, it was as disappointing as exciting.
"I'll take it, I guess," Green said. "But I wanted to keep pitching. I haven't pitched in a while, and I was excited to be back out on mound. I was just riding the momentum of what Albert (Minnis) and Andy (Urban) did a little bit, with how well they've been pitching. We hold a high standard for ourselves as pitchers, and I still had some work to do to match what they've done lately."
Making his first appearance since the team's trip to Oklahoma on March 19-21, Green took the mound on the heels of Tuesday's 12-strikeout performance from Minnis and Friday's five-inning no-hitter by Urban.
Although his start was shortened by the rain, Green appeared to be on par with both performances. After hitting the first batter of the game and watching him steal second and third, Green struck out the final two Olathe North batters of the inning and pushed the Lions' streak of consecutive scoreless innings to 20. He added another strikeout in the second and three more in the third — pushing the streak to 22 innings — before giving up an unearned run in the fourth.
"This is my third year being around the kid," Stoll said of Green. "You're not really ever surprised by anything he does anymore. He's just such a great competitor. You want to tell him good job, but it's kind of what you expect out of him."
In the top of the fourth, Olathe North's Eric Dawson reached second after an LHS error and then scored after two consecutive passed balls. The next three batters grounded out, and the Lions maintained a 2-1 lead.
Offensively, the Lions picked up their two runs by knocking the cover off of the ball.
Had the wind not been blowing in from left field so hard, they likely would have had a few more.
"That first ball that Aaron Rea hit, it definitely lands in the parking lot of Dairy Queen, but the wind knocked it down and kept it in," Stoll said.
Rea's moonshot out did not deter the rest of the lineup from hitting the ball in the air. The Lions just chose to send it to right field instead of left.
Jack Bush drove in the Lions' first run with a rope to right-center field in the bottom of the second. Bush's RBI double drove in Tanner Kilmer, who reached base with a single.
In the third, junior Albert Minnis hit a similar smoker down the right-field line, scoring senior Clint Pinnick, who reached first base on a fielder's choice.
According to Stoll, the two RBI doubles were a sign of what might have been had the rain not cut the contest short.
"We felt like we were on the verge of blowing it open," Stoll said. "We had our 3-4-5 hitters coming up with runners on first and second and no outs."
Lawrence High (4-2) will play at 5:30 p.m. Monday at Free State.
Copyright 2018 The Lawrence Journal-World. All rights reserved. This material may not be published, broadcast, rewritten or redistributed. We strive to uphold our values for every story published.