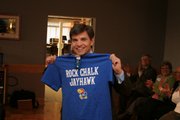 Political correspondent George Stephanopoulos told Kansas University students Tuesday to look for that one moment that grabbed them when deciding their life plan.
In a wide-ranging question-and-answer session touching on many different aspects of politics, journalism and political campaigns, the host of ABC's Sunday morning news show "This Week with George Stephanopoulos" told more than 400 people about the moment he knew what he wanted to do.
During a summer internship in Washington, he saw the outside of the Capitol dome for the first time after emerging from a Metro station in 1981, he recalled.
"I was just blown away. And I was blown away even more by what was going on inside," he said, remembering that it grabbed both his heart and mind. "When you're starting out, wait for that moment."
He detailed how he got into politics, eventually earning a spot on the presidential campaign of President Bill Clinton, and working in the White House as the senior adviser to the president for policy and strategy.
He remembered dealing with a new Republican majorities in Congress in 1994, and the differences between Newt Gingrich, then Speaker of the House, and Bob Dole, who was Senate Majority Leader.
Gingrich led government shutdowns, but Dole took the approach of trying to get things done, Stephanopoulos said.
"You could tell he didn't agree at all with the approach that Newt Gingrich was taking in the House," he said.
Stephanopoulos then made the transition to journalism, taking a job for ABC News, which allowed him to go out and report stories step by step, he said.
"I was determined to bring the benefit of my experience to my job, but to do it in a fair way," he said.
He also fielded questions from interviewer Jonathan Earle, associate director of the Dole Institute of Politics, about current events and the Obama presidency.
"No president in our lifetimes has had to come in and deal with these kinds of problems in the first 100 days," Stephanopoulos said.
He said the president, from a diplomatic standpoint, came out of his first foreign trip relatively mistake-free, but he will have to continue to face the realities of a deepening economic recession at home.
When it comes down to it, "no one knows" when this recession might end, and it may be after the new year begins before things start to recover, Stephanopoulos said.
Earlier in the day, Stephanopoulos toured the Lawrence Community Shelter with his longtime friend Loring Henderson, who is the shelter's executive director.
Don Huggins, president of the Lawrence Community Shelter's board of directors, said that Stephanopoulos donated $100,000 to the shelter during a private event to help kick off a $3 million capital campaign to fund a new location for the shelter.
Copyright 2018 The Lawrence Journal-World. All rights reserved. This material may not be published, broadcast, rewritten or redistributed. We strive to uphold our values for every story published.