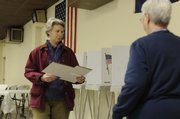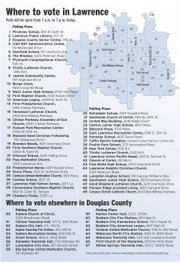 On the street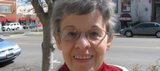 Yes. It's my duty because the decisions they make I'm going to be stuck with.
-->
Polls will be open from 7 a.m. to 7 p.m. Tuesday as voters throughout the area decide a host of city and school board races.
In Lawrence, voters will choose three city commissioners from a field of eight candidates.
The candidates are: Mike Amyx, an incumbent city commissioner and downtown barber shop owner; Price Banks, a Lawrence attorney; James Bush, a sales and marketing professional for a downtown catering company; Dennis Constance, a custodial supervisor at Kansas University; Aron Cromwell, the owner of a Lawrence-based environmental consulting firm; Lance Johnson, the owner of a Lawrence-based civil engineering firm; Tom Johnson, the general manager of KJHK radio; and Gwen Klingenberg, a private music instructor.
Lawrence school district voters also will pick three school board members from a field of seven candidates. The candidates are: Mark Bradford, chief of Lawrence-Douglas County Fire Medical; Bob Byers, an administrator for Kansas SRS; Tom Hartley, a pharmaceutical company representative; Thom Hepford, an accountant; Michael Pomes, a geologist with the Kansas Department of Health and Environment; Michael Riley, a ministry director for the Salvation Army; and Vanessa Sanburn, a graduate student of social work at KU.
John Mitchell's name also will appear on the ballot, but he has pulled out of the race for school board.
Douglas County Clerk Jamie Shew has been pessimistic about Tuesday's voter turnout.
Advance voting ending ended at noon Monday, and 687 voters cast early ballots in person either at the courthouse in recent days or satellite sites on Saturday in Eudora, Baldwin City or Lecompton.
Also, Keith Campbell, the county elections deputy, said more than 400 voters had returned mail-in ballots to the clerk's office by Monday afternoon, but the clerk's office will still accept those ballots until 7 p.m. Tuesday, when the polls close.
Area voters also will decide races in Baldwin City, Eudora, Lecompton, Tonganoxie, and McLouth
Copyright 2017 The Lawrence Journal-World. All rights reserved. This material may not be published, broadcast, rewritten or redistributed. We strive to uphold our values for every story published.