Photo Gallery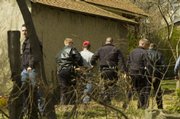 Man arrested after brief car chase
Police arrested a man about 11 a.m. Monday after a vehicle chase began in southeast Lawrence and ended near Hobbs Park.
Officers used stop spikes near 11th Street and Haskell Avenue to flatten the tires of the older-model Ford Escort the suspect was driving.
Capt. Steve Zarnowiec said he was not aware of any injuries related to the vehicle chase that involved multiple police and Douglas County Sheriff's officers.
Once the tires were flattened, the man tried to run from police near the intersection of 11th and Oregon streets before officers arrested him. It ended the chase that began in a residential area southeast of 23rd Street and Haskell Avenue.
Zarnowiec said the call originated when officers "began dealing with" a person wanted for aggravated escape in southeast Lawrence, but he said at the scene officers were still gathering specifics on where the man was wanted and why.
The suspect eventually made it into a vehicle, and officers began to chase him, Zarnowiec said. The man led officers through the residential area, and witnesses said he avoided stop spikes near 25th Terrace and Haskell Avenue.
Cameron Baraban, a Kansas University student who lives in that area, said the suspect was driving about 40 mph in the residential area with about eight law enforcement vehicles following him.
"We heard all the sirens, and the dogs were going crazy," Baraban said.
The suspect eventually drove north of 23rd Street and briefly headed east on 15th Street to a rural area between Lawrence and Eudora.
The suspect's vehicle ran several stop signs and traffic lights in an area near Oak Hill Cemetery and surrounding neighborhoods. Before the tires were flattened, Zarnowiec said, the suspect managed to avoid several attempts by police to disable his vehicle.
Possible charges related to the chase include reckless driving, eluding police and multiple traffic infractions, the police captain said.
Copyright 2018 The Lawrence Journal-World. All rights reserved. This material may not be published, broadcast, rewritten or redistributed. We strive to uphold our values for every story published.