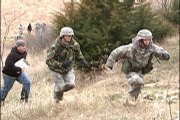 Editor's note: Reporter Mark Boyle takes us behind the scenes of news stories in the area. This week, he catches up with hundreds of Army ROTC cadets from all over the country during the 15th annual Ranger Buddy competition. The competition is becoming a rarity in military education and training. Even though the competition is extremely demanding, both physically and mentally, cadets use the events to gain experience and have fun.
The days leading up to competition day were windy, cold and wet.
Yet none of that mattered to the hundreds of ROTC cadets who converged on Lawrence for the 15th annual Army ROTC Ranger Buddy competition on Saturday.
In the eyes of each cadet, it was sights set forward as they focused on each task in the grueling physical and skill competition.
Twenty-one schools from 11 states participated in this year's competition at Clinton State Park, just west of Lawrence. "In the past, this was actually used to train cadets to go through Ranger school," said Capt. Steve Beard, of Kansas University ROTC. "We no longer do that, but it still gives cadets that are willing to learn a great opportunity. Our cadets have a wide variety of experience; some are brand new freshmen straight out of high school, and others have already served in Iraq and Afghanistan."
This Ranger Buddy competition is one of only four remaining nationwide.
But each year the event grows as more and more schools take part.
From weapons assembly/disassembly and low crawl under wires to completing a medevac assignment and a run/walk, cadets are taught leadership. Two-person teams try to complete the race in the shortest time possible.
KU CS3 Cadet Ryan Fritz and I teamed up to run the course. Fritz, a combat veteran who spent 15 months fighting in Iraq and Afghanistan, led me through the demanding terrain.
"The crucible is going to be the most difficult event, trying to run up that hill as it gets muddier," Beard said. "It is a very spirited event."
It was largely his encouragement that kept me pushing forward as the course began to show its teeth.
We finished, albeit several minutes over our goal — giving me a much better understanding and appreciation for each cadet in the Kansas University ROTC program.
Copyright 2018 The Lawrence Journal-World. All rights reserved. This material may not be published, broadcast, rewritten or redistributed. We strive to uphold our values for every story published.