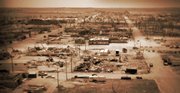 When an enhanced F5 tornado struck Greensburg on May 4, 2007, many thought the town of about 1,400 was destined to disappear. They were half right. About half the town's population has left. But for those who remain, the challenge of rebuilding a town from scratch is powerful and the lure of a new frontier is strong.
On Tuesday, residents of the Chapman school district will vote on an $8.2 million bond issue to help replace schools lost in a tornado last June.
Lost in the storm were the district's middle school and an elementary school, said Chapman Superintendent Tony Frieze. As it dug out of the June 11 tornado, the district found it could salvage the northern part of the high school. That section is now a kitchen, lunchroom and music facility. Classrooms are in modular units.
Should the bond pass, the funds would essentially build a new high school in addition to a new education center and new elementary and middle schools, Frieze said.
The superintendent is optimistic that voters will approve the bond, both because of the obvious need and the bargain it represents. With the Federal Emergency Management Agency providing about $41.1 million of the $75.1 million cost and the state adding another $5.4 million, district taxpayers are only being asked to pay for 15 percent of the building program.
Frieze said the district didn't have a replacement value insurance policy on its schools, but a "floating" policy that will add another $20.3 million of the rebuilding cost.
"Who would think the tornado would take that angle and take everything?" Frieze said. "Junction City doesn't have replacement value on their schools. It's not unusual for districts."
Greensburg's lesson
In Greensburg — the site of another recent Kansas tornado — Superintendent Dan Headrick said the district had replacement value insurance.
"It still fell short," he said. "Small districts like us, we couldn't afford to have any more. We're a 1A district. We pay $80,000 a year in property insurance."
When a district loses "every brick and every book," as Greensburg did on May 4, 2007, replacement value is a misnomer, Headrick said. Another complication was the age of the district's schools, he said.
Lost were a high school built in the 1920s with additions dating to the 1980s, a grade school built in the 1950s and a bus barn.
The district plans to open a new combined K-12 school complex in August 2010. Headrick said insurance would provide $16.4 million of the $49 million cost.
Like Chapman, Greensburg will receive money from FEMA and the state, Headrick said. But unlike Chapman, district officials hope to avoid a bond issue, he said.
"It takes a long time to work out the funding and how much certain entities can help," he said.
"FEMA does help replace what you had back to the standards you had. They are not responsible for upgrades. There are things we had before we aren't putting back in the facility. The money wasn't there."
The F-5 tornado was just as devastating to city facilities. Lost were Greensburg City Hall, the city fire station, its public works shop, a city museum and such things as its three wells with water treatment units, said Greensburg City Administrator Steve Hewitt. And it happened three weeks after the city switched insurance providers, he said.
The city didn't look at its insurance as something to protect all buildings against a catastrophic event, but instead as a hedge against smaller-scale, isolated losses, he said.
"We didn't have full replacement," he said. "We had enough to cover a miniature disaster — a fire or smaller tornado."
The city got about $250,000 in insurance to build a new city hall, Hewitt said.
"If you want to build back a 2,500-square-foot city hall, that's enough to cover it," he said. "But if you want a 5,500-square-foot building with modern technology and a green building that is efficient, you have to pay for that yourself."
Risks still remain
Large capital projects are always difficult because of the burden they can require of taxpayers, Hewitt said. That is acutely true in a town that saw the tornado wipe away $3 million of its March 2007 $5.5 million assessed valuation, he said.
Insurance is expensive and city officials have to weigh what they can afford, especially in hard economic times, he said.
"It's a tough decision," he said. "… You've got to use a little bit of common sense."
That meant making sure the most critical buildings, such as a fire station, were insured at full replacement value, Hewitt said.
He does say city officials should have their attorneys review insurance policies so they truly understood their coverage.
"Don't just take your insurance agent's word for it," he said. "You've got to know your policy and know what you do have. Is it replacement? You think you have $11 million. Do you truly have $11 million or is it functional value or replacement value?
"That's the lesson we all learned the hard way."
Copyright 2018 The Lawrence Journal-World. All rights reserved. This material may not be published, broadcast, rewritten or redistributed. We strive to uphold our values for every story published.