Photo Gallery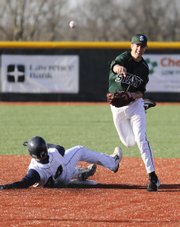 Free State baseball vs. Blue Valley North
Of all the firsts that took place at the Free State High baseball team's slick and stylish new field on Friday, there was one that stood out above all the rest — the win.
From first pitch (Ryan Scott) to first single (Cody Kukuk) to first extra-base hit (Tyler Hatesohl), the Firebirds piled them on during the opening game on their new turf. But the 3-0 victory against Blue Valley North was by far the one element that made the debut of the Firebirds' new turf the most memorable.
"It was kind of like an opening day at a new ballpark," FSHS coach Mike Hill said. "Even though it's not a new ballpark. We're really blessed to play at a place like this."
Although the Free State offense took a while to get going, the defense was sharp from the get-go, particularly starting pitcher Ryan Scott.
In five innings of work, Scott threw just 49 pitches and faced just one more than the minimum number of Blue Valley North batters possible. Scott began working quickly from the opening pitch, needing just five pitches to get out of the first inning, three-up, three-down.
"Keeping the tempo up like that keeps the defense in the game," Scott said. "We just tried to keep it going."
Scott, who was working on a strict pitch count and expected to throw just three innings, struck out five Mustangs and surrendered just two hits and one walk.
"He had good rhythm," Hill said. "And that's so important."
While Scott and the FSHS defense were rolling, the offense slowly was working its way toward one big inning.
Cody Kukuk singled in the first but the Firebirds never threatened. In the second, senior Tyler Hatesohl belted a two-out double but was stranded at second. In the third, leadoff hitter Nick Hassig walked and reached third base with two outs but was left standing 90 feet from home. And in the fourth, designated hitter Michael Lisher was stranded at third base after doubling with two outs.
All of that chipping away led to a three-run fifth inning that broke the game open.
"It was almost like a standoff of who was going to blink first," Hill said.
Thanks to a Connor Stremel single that led off the fifth, it was the Mustangs who first batted their eyelashes.
Hassig followed Stremel's single with a walk and Preston Schenck slapped an infield single to load the bases. From there, Kukuk reached on a fielder's choice that plated Stremel for a 1-0 lead. Next up, junior catcher Adam Petz ripped a double down the left field line that scored Hassig and Schenck and gave the Firebirds a hefty 3-0 lead.
"Adam can swing the bat," Hill said. "And he certainly came through there. That was exactly what we needed."
Petz said his big hit was the product of easing into the game with good at-bats early.
"I kind of had to find my groove and then I got comfortable and just put a good swing on it," he said.
The only down side of the Firebirds' three-run fifth was that they didn't add to it. With three runs in and the bases still loaded with no outs, Free State poked three straight groundballs to BVN infielders, who recorded two force-outs at home and prevented further damage.
But on this day, three runs was more than enough for Free State (3-0), which put Cody Kukuk on the mound in the sixth and seventh to nail down the victory.
Next up, FSHS will play host to Olathe Northwest on Tuesday, their next chance to make more memories at their new home.
"It's a sweet field," Petz said. "It's probably the best in the state, and it's a great feeling to get a win on it."
Copyright 2018 The Lawrence Journal-World. All rights reserved. This material may not be published, broadcast, rewritten or redistributed. We strive to uphold our values for every story published.