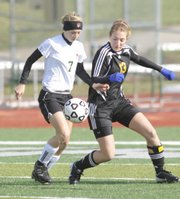 Like the field on which Free State High's girls soccer team played Thursday afternoon, the Firebirds still are a work in progress.
That was the sentiment from Free State coach Jason Pendleton after the Firebirds dropped a 3-0 decision against Shawnee Mission West on a wet, cold, not-quite-finished artificial turf football field at Free State.
"Where we're gonna be is not where we are now," Pendleton said. "We dug ourselves a hole, and a tough one to get out of, but what I did like is the girls showed a little bit of resilience and battled hard in the second half."
Growing pains were inevitable for this year's Free State team, which features 15 underclassmen on its 20-player roster, and it showed early in Thursday's contest.
Within the game's first 27 minutes, three long free kicks resulted in three goals for the Vikings.
The first occurred just six minutes in when SM West midfielder Ashley Mauck headed in a free kick that slipped from Free State freshman goalkeeper Mariah Dickson's grasp.
Seven minutes later, Shelby Schiraldi — daughter of former Kansas City Comets soccer star Gino Schiraldi — lofted a long ball to the far post that an unmarked Amanda Bundrant kicked in for a 2-0 lead.
And the third dagger came in the 27th minute when Schiraldi blasted a free kick from 40 yards out that bounced high off the turf, over Dickson and into the net.
The first and third goals likely could've been prevented with better defensive pressure, Pendleton said.
"As a team, we've got to make sure they're not even allowed to serve those balls into the box to give them an opportunity to score a fluke goal," he said.
In the second half, Free State began to show signs of the progress that Pendleton had hoped to see from the beginning of the game.
Firebirds sophomore Rachael Hodison pushed the pace of play from her forward position, attacking Vikings defenders consistently over the final 40 minutes.
"I think the difference was the intensity level," Hodison of her team's effort. "I'm not exactly sure what was going on with us in the first half, but the second half, we understood that this team was a good team and we were going to have to step up to their level and play harder and tougher."
Hannah Carlson also provided some offensive punch for Free State, serving up two nice free kicks in Vikings territory during the second half.
Defender Grace Lang, one of the five upperclassman on this year's Free State team, said communication would be an area of emphasis going forward. She said she was trying to help some of her less-experienced teammates understand that as they entered Sunflower League play.
"I think that we are just trying to progress and build our technical skills," Lang said. "We are a young team, but I don't think that's really an excuse for anything."
Free State (1-2-1) remains at home for its next game on Thursday against Olathe Northwest.
Copyright 2018 The Lawrence Journal-World. All rights reserved. This material may not be published, broadcast, rewritten or redistributed. We strive to uphold our values for every story published.