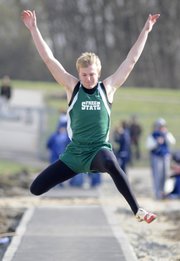 Long-sleeve spandex and over-sized hoodies ruled the day Tuesday afternoon as Lawrence High and Free State High athletes fought temperatures in the low 40s and 20 mph wind gusts to begin the 2009 track and field season at Free State.
In the end, Free State's boys and girls teams ruled the day, too.
The Firebird boys sneaked by the Lions, 68-61, and the girls (79 points) ran away from both Leavenworth (51 points) and Lawrence (47 points) at the three-team Lawrence Invite.
"Things don't fly as far, kids don't jump as high and times aren't quite as good," Free State coach Steve Heffernan said. "The thing you want to focus on this early in the year is just getting out and shaking off the rust."
Perhaps no Firebird did that better than senior and girls team leader Kyra Kilwein.
Kilwein dominated three events individually: the 800-meter, 1600-meter and 3200-meter runs.
"I've been pushing myself to be faster, and it's really fun just to try to break your breaking point," Kilwein said.
Free State's boys, meanwhile, received a significant boost from Keene Niemack in the long jump. Niemack's 21-foot-4 1⁄2-inch leap bested second place by nearly two feet and surpassed his previous best by two inches.
For some of Lawrence's athletes, Tuesday marked the first time they saw a track in practice or competition this season. The Lions had been practicing inside their school or at South Junior High while the athletes wait for the completion of their new track.
Lions senior Chebon Dawes, for example, made his first spin out of any discus ring this season on Tuesday during his first competition.
"It's kind of hard to practice when you don't have a track and all," said Dawes, who finished second at state last year in the discus. "The only thing we can do is throw out in an open field."
Dawes seemed unaffected by those circumstances, winning both the shot put and discuss, his only two events of the afternoon.
For the girls, junior Whitney Demby captured first in the triple jump and the 100 meter hurdles.
Copyright 2018 The Lawrence Journal-World. All rights reserved. This material may not be published, broadcast, rewritten or redistributed. We strive to uphold our values for every story published.