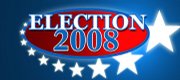 In-depth coverage of the candidates and the issues, all leading up to the Aug. 5 primary and the Nov. 4 general election.
Candidates for two state Senate positions will participate in a forum today at Lawrence High School, 1901 La.
In the District 2 race, state Sen. Marci Francisco, D-Lawrence, and Republican Scott Morgan will answer questions starting at 7 p.m. The forum for candidates in District 3, between state Sen. Roger Pine, a Republican, and state Rep. Tom Holland, a Democrat, will start at 8 p.m.
The event is free and open to the public and sponsored by the nonpartisan Voter Education Coalition.
Copyright 2018 The Lawrence Journal-World. All rights reserved. This material may not be published, broadcast, rewritten or redistributed. We strive to uphold our values for every story published.