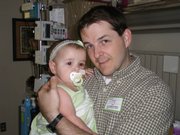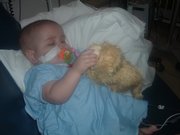 Their daughter was diagnosed with a simple ear infection when she was just 9 months old, but less than 24 hours later, McKensie Gwilliam was admitted to the cancer floor at Children's Mercy Hospital.
"They said that she had cancer and that it was leukemia," said Brandon Gwilliam, McKensie's dad. "It's one of those things that's just unbelievable. Life was normal. We were moving right along and all of a sudden our daughter's got cancer."
Since McKensie's diagnosis in March, the family's life has been turned upside down. Brandon is enrolled full time as a graduate student at Kansas University. He's in the second year of a master's program in social work. He splits his time between attending classes and taking care of his and his wife's two other children.
His wife, Tiffany, spends many days and nights by McKensie's side at the Kansas City, Mo., hospital. The now 15-month-old little girl remains hospitalized after suffering her second relapse. Her dad said her cancer is resistant to chemotherapy and has spread to her head.
"Essentially we've been given the option by the doctors that it wouldn't be unreasonable to stop going forward with treatment," Brandon said.
McKensie's best hope is a bone marrow transplant, and one of her two brothers is a perfect match. She just needs to get healthy enough to undergo the process.
For now, the family from Utah is relying on their faith and the overwhelming support they've received from the Lawrence community.
One of Brandon's classmates in KU's School of Social Welfare has organized a kickball tournament today, with proceeds benefiting the Gwilliam family.
"I've watched him go through this since March. He's been incredibly strong," organizer Rena Reynolds said. "I've never done anything like this. I just thought somebody has to do something."
Reynolds said the tournament has so far raised more than $1,500 for McKensie.
"It leaves us speechless," Brandon said. "A lot of times we'd find ourselves crying for McKensie's situation and then crying because of the love and support that people were giving us at the same time. That's just how it's been all along the way, with so much love and support from people in the Lawrence community and beyond."
Copyright 2018 The Lawrence Journal-World. All rights reserved. This material may not be published, broadcast, rewritten or redistributed. We strive to uphold our values for every story published.