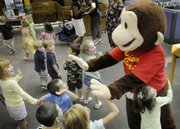 Children entering the Lawrence Public Library on Tuesday morning were greeted by a life-size version of one of their favorite children's book characters: Curious George.
The mischievous monkey was there to remind library visitors about the River City Reading Festival, which will be at the library from 10 a.m. to 4 p.m. Saturday.
Nearly 1,000 attended last year's inaugural event at the Lawrence Arts Center, said Maria Butler, the library's community relations coordinator. She hopes 3,000 will attend this Saturday.
The festival features workshops, readings, a book sale, music and food. Authors from across the country are expected to attend and share their work.
"Most authors have a local connection or their work has a local connection," Butler said.
Kansas University graduate Scott Heim, author of "We Disappear," and Topeka native Matthew Polly, author of "American Shaolin," will conduct sessions.
Lawrence resident Jane Kurtz is also scheduled to speak about her books and childhood spent in Ethiopia.
Tents will be set up on the library's lawn for different genres. Events will take place inside the library as well, including storytelling in the children's room.
Curious George and other children's book characters such as Madeline and the Poky Little Puppy will be there to entertain.
The River City Reading Festival's sponsors include Altrusa International Inc., the Lawrence Public Library, Kansas University Libraries, Lawrence Arts Center and the Lawrence Public School District.
The festival is free. For more information about the River City Reading Festival, visit rivercityreadingfestival.org.
Copyright 2018 The Lawrence Journal-World. All rights reserved. This material may not be published, broadcast, rewritten or redistributed. We strive to uphold our values for every story published.