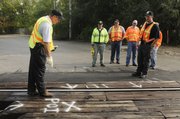 Law enforcement officers from across the state were in Lawrence this week for a two-day crash course on train collisions.
Burlington Northern Santa Fe Railway provided the officers with information during the 16-hour training about what they need to know when investigating train wrecks. According to the railway, a train's involved in a crash with a car, pedestrian or another train every two hours in America.
"Our work with law enforcement is very vital," said Randy Wells, Lawrence-based BNSF field safety support coordinator.
Wells said it's not a matter of if but when an officer will have to investigate a train crash.
Train officials set up a mock crash between a train and a car near Eighth and New York streets, during Wednesday morning's hands-on portion of the training. The 18 officers in the course were shown how to investigate and fill out the official paperwork.
"This is going to be your only true time that you get a chance to get the information on (trains and crashes)," said Josh Kellerman, a Kansas Highway Patrol trooper who assisted with the training. "So that first one you go out to, you're going to be already prepared : on what information you need to gather."
The officers, from 11 law enforcement agencies in the state, also got a train ride from Lawrence to Eudora and back, to gain an understanding of the challenges that train crews face, Wells said.
"With the near misses and the fact that there's an incident every two hours, it gives (officers) a different perspective," he said. "It just gives them both sides for a complete investigation."
Train officials also explained to officers how their signaling system works and the dangers they face when they're physically on a train or railway investigating a crash.
With the possibility of train traffic doubling in the next 10 years, it's important officers are prepared to safely respond to train accidents, Wells said.
Three Lawrence police officers and two Douglas County sheriff's officers participated in the training.
Copyright 2018 The Lawrence Journal-World. All rights reserved. This material may not be published, broadcast, rewritten or redistributed. We strive to uphold our values for every story published.