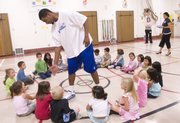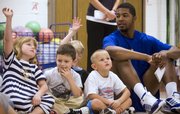 The kindergarten class at Hillcrest School got three big surprises yesterday, and they were all more than 6 feet tall.
Kansas University men's basketball players Tyrel Reed and twins Marcus and Markieff Morris came to teach the students about health and exercise as part of the Fun and Fitness with the Jayhawks program.
"We just came and talked to the kindergarten class about eating healthy and staying fit, and we just basically played with the kids," said Reed, a sophomore guard.
The players found themselves bullied during a game of dodgeball.
"They wouldn't let me get up," said Markieff, a freshman forward. "Every time I got up, they hit me again. They were just having a lot of fun with us."
Tyson Harris, 5, said he knew who the players were.
"Well, they win a lot," he said.
The players gave autographs to each student, but some weren't sure exactly whose was whose.
"I can't even read them!" said Alayana Tilly, 5, of her signed pamphlet.
Both the students and the student-athletes had a good round of physical education.
"It was great coming to work with the kids," said Marcus, a freshman forward. "They have great attitudes about being with us. I just feel great because I know they look up to us a lot."
Alayana took the opportunity to hit a big target. She hit "all of them" during dodgeball.
Fun and Fitness with the Jayhawks kicked off in spring 2006, and student-athletes have been to almost every Lawrence school.
Copyright 2018 The Lawrence Journal-World. All rights reserved. This material may not be published, broadcast, rewritten or redistributed. We strive to uphold our values for every story published.