Photo Gallery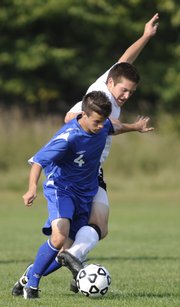 Free State soccer vs. Leavenworth
With five minutes remaining in Tuesday's soccer match between Free State High and Leavenworth, newcomer Tyler Smith scored on a volley off of a Dale Shillington shot attempt.
The goal was Free State's sixth of the day, and the Firebirds went on to win, 7-0.
The celebration that followed Smith's goal showed exactly how unselfish this Free State team is. Shillington rushed his teammate and inadvertently yanked him to the ground as he went in for a chest bump.
A little welcome to the show for the new guy?
"Absolutely," Shillington said. "I gotta do whatever I can to get the team fired up. To tell you the truth, I don't care who scores the goals as long as we win."
The outcome never was in doubt Tuesday as Free State thoroughly dominated the overmatched Pioneers from start to finish.
Alan Hornbaker started the scoring, 15 minutes in, as he ripped a sharp-angle shot into the back of the net off of a long cross from Diego Gonzalez.
FSHS (4-1-1) went up 2-0 with 8:03 left in the first half when Tyler Hatesohl finished off a Peter Lesslie pass on the back side of the Pioneers' defense. Two minutes later, Hatesohl almost scored on a similar play.
A fiery halftime speech from Leavenworth coach Joe Waldron did little to inspire his troops, and the Pioneers looked even more overmatched in the second half.
Preston Newsome scored a goal 1:46 into the second half, and Gonzalez added his first on a header off of a Hatesohl assist. A great individual effort by Gonzalez three minutes later beat two Leavenworth defenders at the top of the box for another goal. The three quick strikes made it 5-0 with 30 minutes to play.
"Once we got a little bit of a lead, I think that took a little pressure off, and we just had some fun kicking the ball up the field," Hatesohl said. "But we were very serious in the beginning because coach (Jason Pendleton) hasn't been that happy with how we've played lately."
Despite the 7-0 victory, which was capped off by a goal from Daniel Chance, who scored off the post with 2:18 to play, Pendleton was not entirely pleased with the game.
"We're not executing things that we've concentrated on in practice," Pendleton said. "But we obviously enjoy winning and when we do get into the attacking third, we do a pretty good job of being unselfish."
Copyright 2018 The Lawrence Journal-World. All rights reserved. This material may not be published, broadcast, rewritten or redistributed. We strive to uphold our values for every story published.