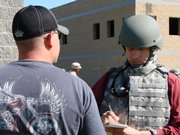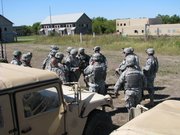 The rusted wreckage of cars and trucks littered both sides of the narrow, rutted dirt road. A convoy of Army Humvees plowed their way past, sometime barely able to avoid scraping the burned-out metal hulks.
I was sitting in a back seat of one of the armored Humvees, looking out through a small window and reminding myself that I was still in Kansas and not on some dangerous back road in Iraq.
But that's exactly where the guys I was riding with that morning last week would soon be. I spent the day with one of the Military Transition Teams undergoing training at Fort Riley near Junction City, home of the famed 1st Infantry Division, the Big Red One. There were two MiTTs in the convoy headed for a mock Iraqi village to learn how to search buildings.
There were five of us inside the cramped Humvee. In the front passenger seat was my team's commander, Lt. Col. Brent Frazier, alongside the driver. Capt. Skip Harrison was to my right in the other back seat, and there was also a machine gunner in the roof turret.
Our Humvee approached two men in a field off the road standing by a pickup truck. Someone - either Frazier or Harrison - called up to the gunner to "watch them closely." We drove by uneventfully. But on up the road our Humvee and others in front of us suddenly stopped. Frazier jumped out and started walking away behind us.
Everybody in my Humvee but me wore headsets to listen to radio communications. I didn't know what had happened until the driver told me the two guys at the pickup truck pulled out AK-47s and started shooting at a Humvee after we passed. The Humvee gunner fired back and the two bad guys were "killed." Blanks were being used in the guns, of course. It was all role playing.
¢ ¢ ¢
Last week I participated in a weeklong media workshop established by Kansas University's William Allen White School of Journalism and Mass Communications and the Army. This was the first such workshop, and I was pleased to be one of 10 journalists from around the country selected to participate in what was called "Bridging the Gap: A Military Experience for Journalists." We spent time at Fort Riley and Fort Leavenworth, where we heard a lot of speakers, conducted a lot of one-on-one interviews with officers and sat in on some classes.
Fort Leavenworth is home of the Combined Arms Center, which oversees the Command and General Staff College and 17 other schools, centers and training programs located throughout the country. All of the Army's majors go through the CGSC. There also are senior officers from other military branches as well as from foreign countries attending the college.
The media event was paid for with a $50,000 grant from the McCormick Foundation. It was not designed to glamorize the military or influence the reporters into liking the military, said Tom Volek, a KU journalism instructor. He and KU colleague Barbara Barnett were among the primary event organizers.
"We're just trying to get reporters beyond the khakis, and the stereotype of the military," Volek said. "Preparing the military and preparing people to fight wars is a very, very complex sum of many parts."
The military-media workshop grant has been renewed for next year, Volek said.
¢ ¢ ¢
Military transition teams are small groups of about 10 soldiers plus a support group, sent to Iraq and Afghanistan to train their soldiers and national police and security forces. The key to making this work is building cultural relationships. The soldiers do not live on American military bases. They live with their Iraqi or Afghan counterparts. They eat their food. They play their games.
"I grew a mustache. I tried to fit in with the crowd," said Maj. Jeremy Hoffman, who served on a MiTT in Iraq.
The teams are usually led by a colonel. You are not going to get a high-ranking Iraqi commander to listen to advice offered by low-ranking officers, former MiTT members said.
I was surprised to learn that some members of MiTTs do not have combat experience. Some Air Force and Navy personnel are even being transferred to fill out MiTTs. Several officers said that this was because the Army's manpower is stretched thin. Even retired military officers have returned to join MiTTs.
"There are really some amazing stories. Majors retired for 10 years wanted to come back and do this for a year," said Lt. Col. Christopher Wilbeck, commander of the 1st Infantry's 2nd Battalion, 34th Armor, which is involved in training MiTTs.
The MiTT efforts do work, soldiers said. Maj. Gary Kerr was with a team in Fallujah, Iraq, in 2005 and 2006. His team was assigned to a national police battalion that Kerr described as "a rag-tag group of people." The Iraqis were supposed to work with U.S. Marines in Fallujah doing cordon and search operations.
"The Marines didn't want to have anything to do with them," Kerr said.
But after six or seven months, the Iraqi battalion had shaped up and was working with the Marines, Kerr said.
The Iraqis want their country back and they are capable of getting it back, Hoffman said.
"They want their nation to stand up," he said.
¢ ¢ ¢
When the convoy of Humvees made it to the mock Iraqi village, the soldiers spent the morning with instructors learning the best ways to line up and search rooms in a building. There were several cinder block buildings, some with props inside and targets on the walls. The soldiers use blanks in the M-4 rifles but they also can use what they call paintballs. These are bullets with a clear tip containing a tiny amount of paint for marking purposes. If you get hit with one on parts of your body not covered by armor, you will feel pain and you will have marks, but it's not like being shot with a real bullet.
By afternoon when the building searches began, I was getting quite hot under my armor and helmet. But I wanted to see the searches up close. I wanted to be inside the building watching the soldiers conduct business.
In addition to what I was already wearing, I had to put on a black, mesh-like mask with a plastic piece over the mouth and nose. Goggles were given to me to put over my sunglasses. I kept hearing from the soldiers that all the gear makes you hotter as well as making it difficult to breathe. They were right.
But as long as I wasn't running I was fine, and during breaks I could pull the mask down enough to breathe a little better before pushing it back up.
I was allowed to be in the buildings with a video camera to record the soldiers as they stormed in and moved from room to room. They knew I was there and they knew where another writer and I would be standing. We wore a yellow band around us, and our helmets didn't have camouflage covers so soldiers would know we were observers.
The MiTT unit I was with is a border transition team, and will be working with Iraqis trying to secure their country's borders. Part of that involves teaching Iraqis how to search buildings.
"This will be only a small part of our mission," Lt. Col. Frazier said about building searches.
This week Frazier's team and other border teams are in the El Paso, Texas, area working with the U.S. Border Patrol.
¢ ¢ ¢
The return convoy to Camp Funston held more surprises than the trip to the village. I rode in the open bed of a Humvee truck next to machine gunner and Staff Sgt. Courtney Minter of Selma, Ala.
At one point an explosion and smoke went off just as we went by. If it had been a real improvised explosive device, I'm sure we'd have been dead. Another IED went off not long after. That one was up ahead of us.
Copyright 2018 The Lawrence Journal-World. All rights reserved. This material may not be published, broadcast, rewritten or redistributed. We strive to uphold our values for every story published.