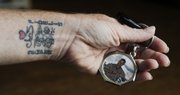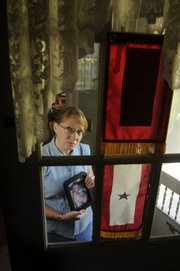 Arguments between parents and teenagers are nothing new.
One Candy Wasser lost with her oldest son, Chris, during his senior year at Ottawa High School, changed their lives forever.
"He wanted to be a Marine," Wasser says. "We did our best to dissuade him. We were blunt with recruiters and insisted they avoid painting rosy pictures of war. I knew Chris was patiently and wisely tolerating us at the recruiter's office."
In spite of Chris' regular pleadings for them to sign his enlistment papers, she and her husband, Scott, refused.
"He couldn't understand our worries and insisted America would never go to war," she says. "I remained adamant; he'd have to sign his own papers for such a commitment."
Shortly after his 18th birthday he did. He left for San Diego on Sept. 7, 2001, with their blessings, never dreaming his first full day of Boot Camp would include the tragic events of 9/11.
"Tears rolled down my face as I watched television that morning," Wasser recalls. "I acknowledged my son was where God wanted him to be. My prayer was simple: God, make us good vessels for whatever's to come."
Wasser, 52, promised herself she'd find a way for the family - including twins Katie and Nick, and Emily - to attend Chris' graduation into the Marine Corps.
"We did. It was Dec. 7, 2001, the 60th anniversary of Pearl Harbor," she says with a sigh.
During Christmas 2002 celebrations, the family received news of Chris' deployment to Iraq.
"When I tried to discuss the wisdom of this action, Chris silenced me with his terse response. 'You don't understand, mom. He (President Bush) is my commander-in-chief; I'll go where I'm sent,'" Wasser recalls. "I didn't understand and dedicated myself to quiet, careful observation."
Chris returned safely, and his high school honored him at a homecoming football game.
"It was the first time Chris wore his Dress Blue uniform in Ottawa," Wasser recalls. "He looked so dignified - you know: 'The few, the proud, the Marines.'"
When news of his second deployment to Iraq arrived, she and Scott met him in Las Vegas.
"I'm delighted one of his last memories was of his parents singing 'White Rabbit' at a Blue Man Group show," she says. "We shared our last hug in a parking lot about 9 p.m. on Sunday, Feb. 8, 2004."
Two months later Lance Cpl. Christopher Wasser, 21, was dead - killed by a roadside bomb.
"When the three Marines and Navy chaplain arrived on our porch at 11.30 p.m. on Thursday, April 8, we looked at each other and breathed deeply," Wasser remembers. "Scott told them we knew why they'd come."
They couldn't read the official notice until Scott explained he was a hospice nurse and often delivered similar news.
"My heart bled for them," Wasser says. "I knew these Marines needed my support. We'd have a lifetime to deal with Chris' death but these guys had immediate needs. I gave them a mom hug before they left and determined to support them through this ordeal."
Three days later, on Easter Sunday, Wasser sang in her church choir.
"I felt God's overwhelming, powerful presence when we sang the Hallelujah chorus," she says.
Ottawa came to a standstill during the funeral procession. Wasser's grief was compounded by news that Chris' captain and four colleagues were killed that day.
"They'd lived in San Diego married quarters," she says. "I wanted to support their grieving families so I went to accompany them to memorial and commendation services," Wasser says. "I deeply appreciated seeing the place Chris called home."
The Wassers returned for the unit's September homecoming.
"I wept openly watching those young Marines huddle together to support and comfort each other," she says.
She met Kevin Rumley, who was near Chris when he died and sustained horrific injuries. They're still in touch and encourage each other.
Wasser is comforted by the knowledge Chris followed his dream. A plaque presented by Ottawa High School displays his words: "Strength beyond description takes courage, of course, but it also takes hope. Never settle for anything less than what you shoot for."
She clasps the plaque to her heart and says, "It's incredible to learn things about Chris that I didn't get time to ..."
The sentence remains unfinished. Wasser remembers her son and weeps.
Copyright 2018 The Lawrence Journal-World. All rights reserved. This material may not be published, broadcast, rewritten or redistributed. We strive to uphold our values for every story published.