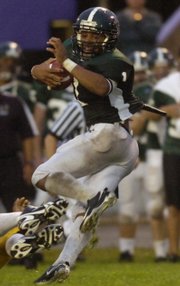 No more alarm clocks for Free State High's football team. Or so the Firebirds hope.
"We definitely had a wake-up call," senior tackle Matt Frantz said, "and I think we fixed things. We have the right guys in the right places now."
Humbled 40-19 by Shawnee Mission West in its opener, Free State bounced back last week with a 28-7 victory over SM South.
Now the Firebirds will find out how far they've turned the corner when they tangle with defending Sunflower League champion SM Northwest.
Kickoff will be at 7 p.m. today at SM North District Stadium.
In the wake of the lopsided season-opening defeat, Free State coach Bob Lisher made a handful of lineup changes, including the installation of small but quick Camren Torneden at quarterback.
Torneden, a 5-foot-7, 160-pound junior, moved from wide receiver and gave the Firebirds a potent 1-2 punch on the ground. Torneden and tailback Chucky Hunter carried the ball 14 times apiece for 143 and 129 yards, respectively. Torneden also threw a TD pass to H-Back Aundre Allen.
The personnel changes, however, weren't the only reason the Firebirds turned it around last week.
"Our work ethic during practice has improved," said senior back Jack Caywood. "There's more hustle, more desire to win."
SM Northwest, expected to challenge for the league title again, suffered a humbling experience of its own last week when Olathe East stuffed the Cougars, 28-0, allowing one of the SL's most potent rushing attacks to gain only 41 yards in 35 carries.
In other words, the Cougars aren't likely to be overconfident when they meet the Firebirds tonight.
"I think they'll play with a chip on their shoulders," Lisher said. "They'll be upset and angry and want to take it out on us."
Free State and SM Northwest have both played SM South. In its opener, SM Northwest spilled the Raiders, 27-13, while Free State won 28-7 win last week.
"The scores are close," Lisher said, "but I don't really think you can compare scores. That has no bearing on the game."
What does matter is which team - SM Northwest or Free State - brings the most intensity.
"They'll be ready to play," Frantz said of the Cougars, "but so will we."
Probable starters
OFFENSE
WR-Preston Randolph, 6-2, 185, Sr. LT-Grahm Saunders, 6-4, 245, Sr. LG-Doug Bittinger, 6-2, 225, Sr. C-Michael Lisher, 6-2, 245, Jr. RG-Josh Hill, 5-10, 220, Sr. RT-Matt Frantz, 6-4, 250, Sr. TE-Taylor Stuart, 6-1, 205, Sr.
QB-Camren Torneden, 5-7, 160, Jr. RB-Chucky Hunter, 5-9, 180, Sr. H-Back-Aundre Allen, 5-10, 155, Jr. WR-Matt Green, 5-10, 160, Sr.
PK-Cole Woolsey, 5-11, 170, Sr.
DEFENSE
LE-Lisher. NG-Matt Ruder, 6-3, 200, Jr. RE-Saunders. OLB-Mitch Werts, 5-10, 190, Sr. LB-Eric Franz, 5-11, 190, Sr. LB-Kirk Resseguie, 6-2, 180, Jr. OLB-Stuart. OLB-Keene Niemack, 5-11, 165, Jr.
CB-Torneden. CB-Cameron Schmidt, 6-2, 190, Sr. FS-Randolph.
P-Resseguie.
Copyright 2018 The Lawrence Journal-World. All rights reserved. This material may not be published, broadcast, rewritten or redistributed. We strive to uphold our values for every story published.