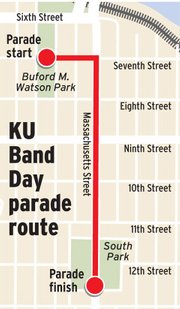 A musical flock of Jayhawks will be expected to grow larger, play louder and ensure that crimson-and-blue notes are heard clearly throughout the country.
That's the direction from KU benefactors Dana and Sue Anderson, who are donating $100,000 to open an endowment for the Marching Jayhawks.
"A first-class university should have a first-class marching band," said Dana Anderson, who received a business degree at KU in 1959, and today is vice chairman for The Macerich Co., which develops and owns shopping malls nationwide. "And while I think they've been very good musically, we haven't had the numbers to produce the sound in the stadium that you really need."
Enter the fund.
"We're just getting started," he said.
The endowment is designed to provide long-term financial security for the band program, now more than 250 members strong but still a long way from where the Andersons would like to see it.
The Andersons, who live in Santa Monica, Calif., regularly attend KU football games and have donated money to open a strength center, upgrade Allen Fieldhouse and build a new football complex at Memorial Stadium.
They've also found themselves wondering how they could help the Marching Jayhawks project a more imposing presence. The new uniforms purchased a few years ago look great, Dana Anderson said, and assistance from the chancellor's office last year to help purchase new instruments proved positive.
But the program needs to step up to the level being achieved by the athletics programs that band members play for, he said. The basketball team won an NCAA Championship. The football team won an Orange Bowl, and continues to move forward under coach Mark Mangino.
"We were disappointed last year, when you look down there and we just had this minuscule group, comparatively, when you look at any other college band," said Anderson, who recalls discussing the issue during a KU football game with friend and business associate Tom Lipscomb, a former member of the Marching Jayhawks. "And I don't think that's reflective of a top-flight university."
Scott Weiss, director of bands, said the endowment would help finance instruments, uniforms and scholarships - and establish a fund that could grow into sustaining a culture of excellence.
"Then we would be set up financially for the long term," Weiss said.
The Andersons' donation comes with the blessing and support of their son, Lawrence dentist Justin Anderson, and his wife, Jean - both KU alumni - because the money otherwise would have gone to them as part of the Andersons' estate.
For more information about the fund or how to add to it, visit www.kuendowment.org.
Halftime extravaganza
Fans at Saturday's sellout football game between Kansas University and Sam Houston State will get a treat at halftime.
As part of the 61st annual Band Day, more than 40 high school bands will perform a series of patriotic songs, as well as joining the Marching Jayhawks for "I'm a Jayhawk."
The halftime performance follows the traditional parade down Massachusetts Street.
The parade begins at 1:30 p.m. Saturday. It starts at Seventh Street and ends at South Park.
Tom Stidham, KU's longtime associate band director, said this was the first Band Day in many years to play to a sellout crowd.
Marching bands from Lawrence High School and Free State High School will march in the parade but won't perform at halftime.
The football game begins at 6 p.m.
Copyright 2018 The Lawrence Journal-World. All rights reserved. This material may not be published, broadcast, rewritten or redistributed. We strive to uphold our values for every story published.