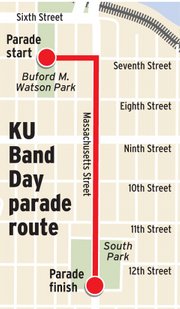 Past Event
When: Saturday, September 20, 2008, 1:30 p.m.
Where: Downtown Lawrence, Lawrence
Cost: Free
-->
-->
Fans at Saturday's sellout between Kansas University and Sam Houston State will get a treat at half-time.
As part of the 61st annual Band Day, more than 40 high school bands will perform a series of patriotic songs, as well as joining the Marching Jayhawks for "I'm a Jayhawk."
The half-time performance follows the traditional parade down Massachusetts Street.
The parade begins at 1:30 p.m. Saturday. It starts at Seventh Street and ends at South Park.
Tom Stidham, KU's longtime associate band director, said this was the first Band Day in many years to play to a sellout crowd.
Marching bands from Lawrence High School and Free State High School will march in the parade, but won't perform at half-time.
Copyright 2018 The Lawrence Journal-World. All rights reserved. This material may not be published, broadcast, rewritten or redistributed. We strive to uphold our values for every story published.