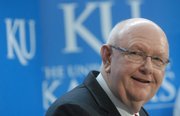 KU's 16th chancellor, Robert Hemenway, announced Dec. 8, 2008, that he would retire at the end of the current academic year. He's been chancellor for 14 years.
Kansas University Chancellor Robert Hemenway was given a 2.5 percent pay raise by the Kansas Board of Regents, which brings his potential salary compensation to $340,352, according to figures released by the regents on Thursday.
The 2.5 percent increase was given to all the regents university presidents and regents president and chief executive officer Reginald Robinson.
Of Hemenway's compensation, $267,177 is provided by state funds. The remaining $73,175 represents the maximum that he can receive from the KU Endowment Association.
The regents described the pay raises as cost of living increases. Last year, Hemenway received a 4 percent pay raise, but state budget problems have forced the regents and other state agencies to tighten expenses.
Hemenway is the highest paid university chief executive in the regents system.
Here are the state salaries and maximum compensation packages for the rest of the university chiefs:
¢ Kansas State University President Jon Wefald, state salary $255,298, and maximum compensation, $315,962;
¢ Wichita State University President Don Beggs, $223,391 and $277,160;
¢ Fort Hays State University President Ed Hammonds, $202,593 and $223,860;
¢ Pittsburg State University President Tom Bryant, $202,593 and $223,860;
¢ Emporia State University President Mike Lane, $202,540 and $213,200.
¢ Regents president Reginald Robinson, $185,525 and $197,825.
Copyright 2018 The Lawrence Journal-World. All rights reserved. This material may not be published, broadcast, rewritten or redistributed. We strive to uphold our values for every story published.