-->
On the street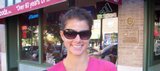 It might decrease my smoking, but not by much. I would just try to conserve them more, but it wouldn't be a huge difference.
Topeka — It might seem odd to seek a 75-cent increase in the state tax on cigarettes after the Legislature refused to consider a 50-cent increase this year.
But that's what the Kansas Health Policy Authority plans to do.
Marcia Nielsen, executive director of KHPA, said on Wednesday that there were several reasons why a larger tax increase may be more politically viable this time:
¢ When the Legislature meets in January, lawmakers will have just gotten through an election, so House members won't face voters again until 2010 and senators until 2012.
¢ The number of uninsured Kansans is increasing.
¢ And because state revenues are getting tighter, lawmakers may be more ready to consider a tax increase to take care of health care needs.
"A nonelection year with a tight budget and an increasing problem that affects thousands of Kansans make passage of a tobacco user fee possible. We can have meaningful health reform in our state and have a vehicle to pay for that," Nielsen said.
The current Kansas tax on a pack of cigarettes is 79 cents. Increasing that by 75 cents would raise the tax to $1.54 per pack.
Under the KHPA recommendations, revenue from the increase - about $69 million - would be used to expand health care coverage to low-income Kansans.
Gov. Kathleen Sebelius, who has supported the 50-cent increase in the past, said she would support a 75-cent increase.
"There are a number of health risks tied to smoking and Governor Sebelius supports increasing the tax as proposed by KHPA," said spokeswoman Nicole Corcoran. "In addition, she continues to support increasing the tobacco tax as it's a good deterrent to teenagers."
KHPA also will seek a statewide ban on smoking in indoor public places, such as restaurants and bars, another policy legislators rejected last session.
Copyright 2018 The Lawrence Journal-World. All rights reserved. This material may not be published, broadcast, rewritten or redistributed. We strive to uphold our values for every story published.