On the street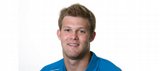 No, not at all. It was a close loss, and one loss isn't going to kill a season. We'll bounce back in time for conference play.
Sometimes, the life of Riley isn't all it's cracked up to be. Neither is the life of Reesing.
Robert Riley, a Journal-World reporter by day and a cage fighter/instructor by night, strolls Mass Street in the late afternoons, asking topical questions of strangers. He shoots pictures of them and runs their responses in the daily "On the Street" feature.
Todd Reesing, as most know by now, plays quarterback as nobody ever has for Kansas University. Reesing's performance in a 37-34 loss to South Florida on Friday night in Tampa sent longtime KU football fans scanning their memories for another time a quarterback led such an inspired comeback on the road.
Reesing and Riley had a chance meeting Monday afternoon, as in a one in 80,000 chance that they would meet at the absolute worst possible time.
Initially, Riley hit the streets with a question about the market collapse. Many hadn't heard about it, others didn't seem to care, a few didn't want to comment.
Riley called an audible one person too soon. He would have gotten an informed answer on the market collapse from the next guy, who regularly reads The Economist. Instead, Riley checked off to Plan B. Everybody has an opinion on football.
Little did Riley know that the college student waiting outside a store for his friends to finish shopping was Reesing.
Riley, who like any reporter knows if you're going to ask questions for a living you have to answer them too, recounted the exchange.
Riley: "Has the KU football team's recent loss shaken your faith in the team?"
Reesing: "I sure hope not."
Riley: "Why's that?"
Reesing: "I'm on the team."
Riley: "What position do you play?"
Reesing: "I'm the quarterback."
Riley had to be thinking, "Beam me up, Scotty. Now!"
Reesing answered the question. Riley asked him if he'd pose for a picture and Reesing told him we had plenty of photos of him on file back at the office, which of course we do. Sometimes we even publish a sports section without using one of those images.
Asked about the exchange Tuesday, Reesing was a good sport. His only regret was that his friends were still inside the store, finishing their purchase. He thought they would have enjoyed it.
"I thought it was more funny than anything," Reesing said, laughing at the memory. "I don't even know what to say. It was a funny thing though. I was trying not to laugh too hard. He was pretty cool about it."
Riley stopped Kerry Meier last year and asked him what book he was reading. (Into the Wild). He recognized Meier, who looks more the part of football player than Reesing, KU's Big Man On Campus nonetheless.
"It's nice to go places and be able to sneak around and not get noticed all the time," Reesing said.
It was tougher for Reesing to shake off the final throw of an otherwise spectacular performance.
"It was tough to get over," Reesing said. "It probably took me a whole 24 hours to really get it out of my mind. That's just how I am."
Copyright 2018 The Lawrence Journal-World. All rights reserved. This material may not be published, broadcast, rewritten or redistributed. We strive to uphold our values for every story published.