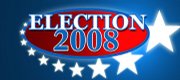 In-depth coverage of the candidates and the issues, all leading up to the Aug. 5 primary and the Nov. 4 general election.
Topeka — Republican congressional candidate Lynn Jenkins is criticizing U.S. Rep. Nancy Boyda, D-Topeka, for taking campaign contributions from U.S. Rep. Charlie Rangel, D-N.Y., who is under fire for owing back taxes.
Jenkins, the state treasurer, faces Boyda in the Nov. 4 general election for the 2nd Congressional District, which includes west Lawrence, Topeka, Manhattan and much of southeast Kansas.
The Jenkins campaign issued a statement saying that Boyda has joined "the culture of corruption" and that she should give Rangel's money back and demand his removal as chairman of the House tax-writing committee.
Thomas Seay, a spokesman for the Boyda campaign, said that Boyda supports an investigation into Rangel by the House Ethics Committee, and that a law that she helped write should strengthen the committee's probe.
"There's no doubt that claims of wrongdoing by public officials are serious matters that deserve thorough investigation," Seay said.
"The congresswoman absolutely believes that the Ethics Committee needs to use its new powers to dig into the allegations and find the truth," he said.
But Seay said Boyda would not return the money at this point.
"We're at such an early stage in this story. My understanding is that no law enforcement agency has even commented on the claims, and frankly, nobody knows what happened here," he said.
Rangel has conceded he did not report approximately $75,000 in rental income on a beach house he owns in the Dominican Republic, and that he owes about $5,000 in back taxes.
The House Ethics Committee is investigating, and Rangel has said he would hire an accounting firm to review his finances and issue a report on their findings.
Rangel and his political action committee have contributed $14,000 to Boyda during the current election cycle.
The Jenkins campaign also noted that Boyda voted to spend $2 million in taxpayer funds for the Charles B. Rangel Center for Public Service.
"The Boyda-backed Rangel 'monument to me' comes complete with a personal library and private office for the New York City congressman," the Jenkins campaign said.
But Seay said the vote was for funds already set aside in the federal budget. "Here in Kansas, we have buildings named after (U.S. Sen.) Pat Roberts and (former U.S. Sen.) Bob Dole. It's not surprising that other states have named buildings after their own elected officials," he said.
Copyright 2017 The Lawrence Journal-World. All rights reserved. This material may not be published, broadcast, rewritten or redistributed. We strive to uphold our values for every story published.