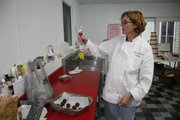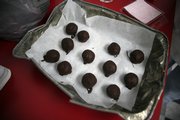 As a toddler, Jean Younger stood up in her converted crib and kissed a picture of the Monkees every night, goaded on by a roomful of older sisters.
"Cheer up sleepy Jean, oh what can it mean?" they'd squeal.
Younger never forgot her days as her family's "Sleepy Jean," and these days, she's a true believer in her own dreams.
Younger is the Jean behind Sleepy Jean's Confections, a line of chocolates, caramels, truffles and more sold around the Lawrence area and at www.sleepyjeansconfections.com.
The line hit the commercial shelves two years ago and now has folks asking for it by name, says Lora Wiley, owner of Au Marche, 931 Mass., one of Younger's vendors.
"We've had a good response to them, and I can say particularly we've noticed that people who stay at Eldridge Hotel, they'll come down and buy them from us because the Eldridge gives it to their guests," says Wiley, who enjoys a Sleepy Jean dark chocolate-covered caramel every now and then herself.
To be sure, those guests and other chocolate lovers can find Sleepy Jean's Confections there, nestled in between German and Swiss delicacies at the shop, which specializes in European products. The packages stick out like shiny wrapped presents with ribboned tags - mid-dark sweet curry and coconut chocolate bars, caramel pillows and 68 percent dark chocolate.
It's success that's much more than anything Younger, 44, imagined when she first began grinding cacao beans in her Lawrence kitchen and concocting recipes in early 2005. All she knew was that she wanted to make her own chocolate from scratch. And maybe get out from under the thumb of corporate America, too.
"I didn't want to just melt chocolate and use somebody else's chocolate and then do that. That wasn't exciting to me," Younger says. "What I really wanted to do was come up with my own recipes ... not just be a candy dipper."
Daydream believer
So Younger begin to experiment with the idea of making her own chocolates. At the time she was a corporate lawyer for General Electric, spending too many hours away from home and her husband, Scott, and two young daughters, Kennedy and Crosby, now 11 and 9, respectively.
So, how does one go from being a high-powered attorney to a chocolatier? An undergraduate degree in chemistry, penchant for old books and a husband who can troll the Internet like none other certainly helps. Mixing out-of-print books, message boards and a good dose of her former life working with oil viscosity, Younger decoded the science of making chocolate and perfected her recipes through trial and error. At Christmas of 2005, she debuted her candies for friends and family.
They were a hit.
"They were amazing from day one. Especially her caramels. It's like she knew what she was doing right at the beginning. If she did experiment, she didn't let us taste them," says friend Dorothy Malsbury, who early on let Younger use the kitchen of her former company, Downtown Catering, to make her confections. "It's a fabulous, extremely high-quality product, a magnificent taste."
By April 2006, Younger quit her job, ready to work for herself.
"When I worked for GE, it seemed like I was the one that would come in and clean up broken businesses ... everything I did for the last four or five years with that company was fixing problems, fixing somebody else's problems. And I said, 'It's just so nice, not to be cleaning up somebody else's mess, to be actually cleaning up my own mess,'" Younger says.
Still refining
Part of being her own boss meant making her own decisions. When her family bought a house out in the country south and west of Lawrence, she decided to add on a certified commercial kitchen for her candies.
She then began selling on cooler days at the Lawrence Farmers' Market, and her candies hit the shelves first at the Community Mercantile, 901 S. Iowa. Through the market and vendor days at both the Merc and Hy-Vee, where her sweets sell in the natural foods section, she has garnered all sorts of ideas for her confections.
"People ask, 'Have you ever tried this?' or 'I really like this flavoring, you think you can do something with it in your chocolate?' And I'm like, well, I'll try!" says Younger, who is currently working on an ancho and cumin treat and is partnering on a chocolate wine with Jefferson Hill Farm & Winery in McLouth. She uses cayenne and chipotle peppers and curry in some of her items. She's even attempted using wasabi because her husband loves it so much.
"It was a total failure, I still haven't figured that one out," she says of the wasabi experiment.
But one thing she has figured out is that customers get a kick out of meeting the face behind the chocolate, lining up at vendor days and the Farmers' Market just tickled to meet the person who made the chocolate for sale in front of them.
"They're always like, 'Are you Sleepy Jean?' and I'm like, 'Yes, I am,' and they're like, 'Wow, I get to meet her.' And that is kind of cool," Younger says. "That wasn't anything I thought would ever happen, that somebody would be excited to meet somebody who makes chocolate."
Copyright 2018 The Lawrence Journal-World. All rights reserved. This material may not be published, broadcast, rewritten or redistributed. We strive to uphold our values for every story published.